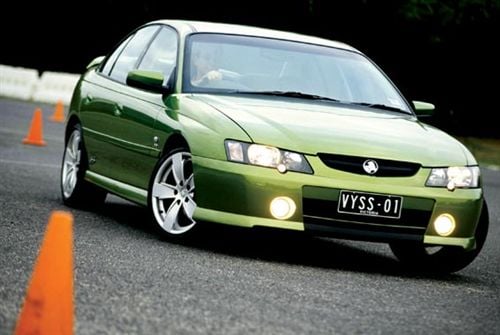 SS stands for Super Sports, a revered nametag at General Motors where it adorned some of Chevrolet's hottest muscle cars of the 1970s.
That meant Holden's SS had a lot to live up to, and generally, it has delivered.
When we tested the VY model SS in early 2003 (when it cost $62,800), we concluded that it had definitely made the grade.
Holden got really serious about the SS with the VX, producing a bolder look that cocked a snook at HSV's Clubsport.
The VY got more serious still with a crisply-styled bodykit very much in the HSV mould, but without the HSV's rather dubious-looking Formula 1-style front spoiler.
The VY SS ran a 235kW version of the 5.7-litre GEN III Chevrolet V8. Peak torque was a chunky 465Nm developed at 4400rpm, though ample torque was there from much lower in the rev range.
The HSV Clubsport's version of the GEN III outgunned the SS's: 260kW at 5600rpm (the SS developed its maximum output at 5200rpm) and 475Nm at 4000rpm.
But despite its lower output, few people would be likely to complain about the SS V8's power.
It's plentiful and it's offered up smoothly and willingly.
The best thing about the VY SS's engine compared with its predecessors was that Holden re-tuned its exhaust to deliver a gorgeous, give-me-more V8 beat. It wasn't loud, but it had a real V8 sound to match the real V8 power.
The sprint to 100km/h took the VY a shade under seven seconds; more important was its effortless and potent acceleration at highway speeds.
That made the SS a superb cross-country car, the V8's massive torque quickly regaining any lost momentum.
The test car ran the four-speed automatic gearbox, and that's the version we'd recommend. SS's with the optional six-speed manual are rarer and the gearshift is ponderous, heavyish and the box's two top ratios are useful only on the highway.
Acceleration is leisurely in fifth, tardy in sixth. The auto, on the other hand, accelerates strongly in all ratios.
VY SS steering was nicely firm and suspension revisions improved turn-in crispness over the VT/VX models.
The VY will tackle a demanding winding road with ease, the chassis remaining poised and balanced, with body roll well-controlled.
The 18-inch diameter, eight-inch wide alloy wheels were shod with 235/40 R18 tyres which provided excellent grip.
Ride was firmish but never uncomfortable.
Creature comforts included well-shaped sports-style seats; air-conditioning; a CD sound system with six-disc in-dash stacker; ABS anti-skid braking; traction control which can be switched off; electrically-wound windows and power door mirrors.
Passive safety gear included front and side airbags for driver and front passenger.
The VY SS offers sparkling performance, predictable and good handling, and reasonable ride comfort.
It can also be reasonably economical for such a high-performance car.
The HSV Clubsport will always be an aspirational car for Commodore fans, but the SS will do just as nicely and is cheaper to buy.
One Holden tuner told us he considers the SS the better buy, saying that if you have the budget you can enhance an SS and still come in under the cost of a comparable HSV.
Story by Mike Stock.
Photos from Holden Australia.