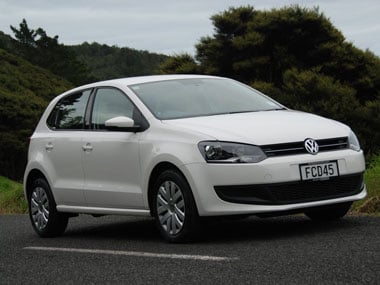 Previous Polos were pleasant enough, though most variants lacked the Golf's class, and were priced above the competition while supplying no real reason to pay the premium.
But this car's effectively a mini Golf. It gets the new brand face, with new head and taillights punctuating that wide-mouthed grille and simple tailgate, now with the swiveling VW-logo boot release lifted from its bigger sibling.
It has a longer, wider body too – but it's lower, the new proportions imparting a more purposeful look than the rather frumpy lines of old.
That bigger body makes for more interior space – though the boot benefits by just 10 additional litres. But the expanded dimensions don't add weight, in fact the car is actually lighter – a bit of a magic trick when you also factor in the additional spec, with two extra airbags taking the total to six, plus stability control as standard.
The cabin delivers the smart, restrained lines and colour palette we're used to and easy-to-operate ergonomics, plus increased storage including a tray under the driver seat.
But the good bit is this car's performance. The redeveloped 1.4 litre engine delivers a touch more power and it's now mated to a seven-speed DSG double-clutch transmission, a first for Polo.
This auto is arguably better matched to the wee car, with first gear shorter for better pull off the line, and seventh gear higher for more frugal motorway cruising – VW claims a 7.7l/100km thirst round town, and 5.8l/100km overall.
The ratios let you make the most of the unpretentious 63kW/ 132Nm on offer, the car positively scampering over my local hills and delivering perky round-town performance that suits its new persona. True, the zero to 100kph figure is a very modest 11.9 seconds, but who buys a car like this for hard-out acceleration?
Mind you, tapping the sport button certainly hones the car's response – and you can appreciate it given the competent handling equation assisted by this car's wider track.
Competent, but compliant, with a delightful balance to the redeveloped suspension that makes you wonder whether the sports suspenders will be much better, given they'll compromise ride quality.
So this Polo's handsome, and reasonably lively both in handling and performance terms – what's the downside?
Not a lot that we can see – other than the steel wheels, with alloys a cost option. But at $27,990 this Polo is priced amidships of mainstream competition like Toyota's Yaris and Honda's Jazz.
There's only one variant at present, with a more powerful, 1.2-litre 77kW TSI due next year, and a GTI hottie and the Polo Cross under consideration.
A diesel? Unlikely while road user charges penalize small passenger diesels, particularly given this 1.4's already frugal thirst.
Our initial impression is that Polo's mini-Golf persona, decent features list and Euro cachet makes it a winner, certainly at its relatively mainstream price.