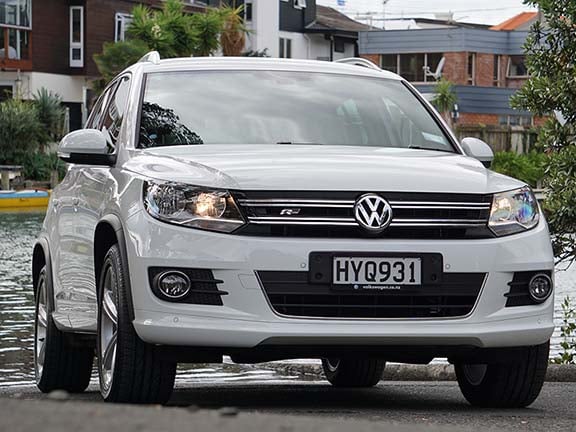 Base price: $46,490.
Powertrain and performance: 1.4-litre turbo-petrol four, 110kW/240Nm, 7-speed automated dual-clutch transmission, front-drive, Combined economy 7.1 litres per 100km, 0-100km/h 9.3 seconds.
Vital statistics: 4426mm long, 1703mm high, 2604mm wheelbase, luggage capacity 470-1510 litres, fuel tank 64 litres, 18-inch alloy wheels on 235/50 tyres.
We like: Sharper visual style of R-Line package, lively powertrain, comfort, brilliant self-parking system.
We don't like: Prone to wheelspin, conservative cabin, clunky iPod connectivity.
How it rates: 7/10
WHAT DO I NEED TO KNOW? You might struggle to keep track of Volkswagen's Tiguan crossover range: it covers petrol and diesel, two-wheel drive and four-wheel drive models.
But that hasn't stopped Volkswagen New Zealand adding a little more complexity in the interest of added value (and therefore added volume). The entry-level Tiguan TSI petrol front-drive is now being offered with an R-Line specification package.
R-Line is familiar nomenclature for Volkswagen: there are similar packages available for other models. In the case of the Tiguan, it adds $5000 to the base price but brings a long list of standard equipment.
First, you get everything offered in the Comfort option package: 18-inch alloys, upgraded audio with touch screen, automatic air conditioning and automatic parking/radar, which normally costs $3500.
On top of that comes an R-Line body kit including different bumpers and wheel arch extensions, sports suspension, special interior trim, multifunction steering wheel and stainless steel pedal caps.
WHAT'S IT LIKE TO DRIVE? Standard VW, which is to say really rather good. The Tiguan front-drive is powered by the brand's ubiquitous 1.4-litre turbo-petrol engine (otherwise known as TSI) and seven-speed dual-clutch automated gearbox (otherwise known as DSG) combination.
The TSI is refined and crisp – perky even, especially with the quick shifts of the DSG thrown into the equation. There is opportunity cost to be paid for that eager nature, though: the DSG can be jerky at very low speed, as the automated clutches struggle to figure out what's required.
There's also a bit of rollback on hills. VW has tried to combat that with an auto-hold function, which activates the handbrake automatically when you stop. That does cure the unwanted rolling, but adds even more jerkiness into the equation.
The DSG has normal and sport modes; the latter might be a bit busy for mainstream motoring as it tends to hold gears for a long time unless you're very careful with the throttle, but it does accomplish some beautiful double-declutch downchanges as you brake.
Even if you don't go off-roading, you might miss four-wheel drive at times in this car: it's softly-sprung and with a relatively high centre of gravity, it's easy for weight transfer to induce wheelspin in tight corners (see also that perky powertrain above).
It's also all too easy to get the front tyres chirping off the line at traffic lights. But maybe you like that.
That aside, the Tiguan has a very capable chassis, with a supple ride despite the R-Line sports suspension, and a stable cornering attitude.
IS IT EASY TO LIVE WITH? The Tiguan cabin is extremely conservative but beautifully made and very well-equipped – again, classic VW execution. Nice touch with the R-Line-specific steering wheel. The seating position is upright and there's excellent visibility through large glass areas.
The R-Line package brings VW's self-parking system and it is brilliant – by which we mean brilliantly simple. Simply press the button while you're driving past possible spaces, then the system will give you the signal to shift into reverse and you can hand over control of the steering wheel. It's incredibly quick and very accurate – good enough to use it on a regular basis rather than as a novelty.
The Tiguan's age shows in the connectivity options for media devices. There's no USB port (although somebody at VW had been smart enough to plug an aftermarket USB unit into the 12-volt outlet for phone charging in our test car) and you need a special adaptor to run your iPod through the sound system.
SHOULD I BUY ONE? The Tiguan is no style leader and it is getting rather old: this shape dates right back to 2007. It's all starting to seem a bit hum-drum next to newer VWs like the Golf and (more importantly) the vast range of choice you now get in the compact-crossover segment.
That said, it's hard to fault the driving experience and base technology: it's good to drive and the quality is as impressive as ever. The R-Line package certainly gives Tiguan a visual lift – not to mention a few choice items of useful equipment.
EQUIPMENT CHECKLIST
Blind spot warning: No
Lane guidance: No
Cruise control: Yes
Automatic lights/wipers: Yes/yes
Parking radar: Front and rear with camera
Self-parking technology: Yes
Head-up display: No
Satellite navigation: No
Keyless entry/start: $1000
Stop-start: Yes
Air conditioning: Single-zone climate
Heated/ventilated seats: No
Power seat adjustment/memory: No
Leather upholstery: No
Power boot or tailgate: No
Split/folding rear seats: 60/40
Browse Autotrader's range of Volkswagen Tiguan cars for sale.