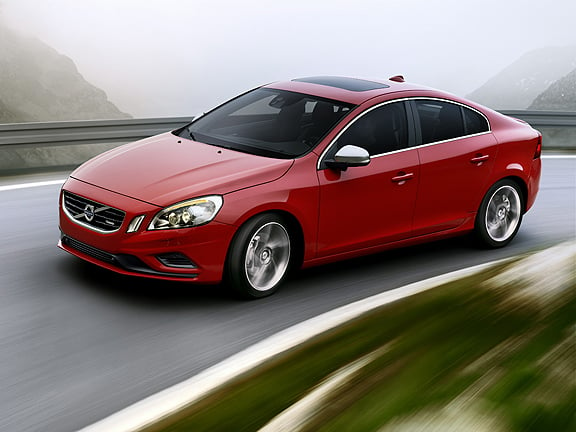 R-Design: that's really just a bit of dressing up, right?
Primarily, yes. What's wrong with that? Volvo's been pretty keen to project a much more sexy image in the last few years and its R Design packages are just the latest step in that process. All the cool kids are doing it: Audi has its S-Line options and BMW sells M Sport versions of its mainstream models. Looks-wise, R Design is pretty comprehensive: redesigned front apron with gloss-black grille, colour matched body detailing, larger intakes to the rear diffuser, twin tailpipes and five-spoke 18-inch alloy wheels. Inside, the sports seats have large bolsters and is trimmed in R Design leather. There's also a leather-wrapped three-spoke steering wheel, sports leather gearshift lever, sports pedals, and R Design floor mats, trim inlays and watch-dial instrumentation. It's not all show, though. The S60 R-Design has 15mm-lower suspension and extra bracing under the bonnet. Our S60 T5 R-Design test car costs $72,990 with the 177kW/320Nm 2.0-litre turbo engine and front-drive. The flagship T6 R-Design is $90,990 and boasts a 3.0-litre turbo-six with 224kW/440Nm and all-wheel drive.
Does the drive live up to the looks?
If you remember the tyre-shredding T5 Volvos of the 1980s and 1990s, you might be a bit disappointed with what the badge has become circa-2012. The power delivery is smooth, performance brisk but not brutal (0-100km/h in 7.7 seconds) and the whole experience is really rather civilised. It's only the firmer ride that gives the R-Design a little bit of edge. Actually, for us grown-ups that's not a bad thing. The S60 is an extraordinarily sophisticated machine and I'm sure too much performance and handling bravado would undermine the extreme feeling of wellbeing you get from driving this car. It's definitely more svelte than sporty – but that's sweet with me with it's all done with such style.
Is Volvo still all about safety?
Safety is no longer the whole story for the Swedish-Chinese brand. But the S60 still comes with its share of cutting-edge safety gear. Standard-fit stuff includes the clever City Safety system, which will brake and stop the car automatically if you look like you're having a senior moment and about to drive into the car in front in traffic. At up to 15km/h, Volvo reckons the system will prevent an impact altogether. Beyond that, damage is contained as best the system can. The S60 can also recognise pedestrians and apply the same auto-brake technology when required. There's a host of other high-tech safety stuff available on the S60. Too much is optional on the standard models, but the R-Design versions get a rear parking camera, Adaptive Cruise Control and Queue Assist for low-speed urban driving. Blind Sport Information System (BLIS), Active Bending Lights (ABL) and Volvo Navigation System (VNS) are all standard on R-Design models.
Should I buy one?
Depends whether Volvo's current styling and ethos really does it for you. The S60 is pretty slick and the cabin is beyond reproach for style, ergonomics and quality of materials. It's the newest and best car in the Volvo range, no question – but in looks and feel it's not a whole lot different from what has come before. Don't mean to sound negative – there's still a feel-good quality to the S60. It's got a whole lot more character than a Peugeot 508 GT or Volkswagen Passat, and if it isn't quite up to the dynamic standards of a BMW 3-series or Mercedes-Benz C-class – well, that's okay. It costs tens of thousands of dollars less. The R-Design package adds some extra bling and the fact that you probably won't see three others in the company car park must surely add to the appeal.