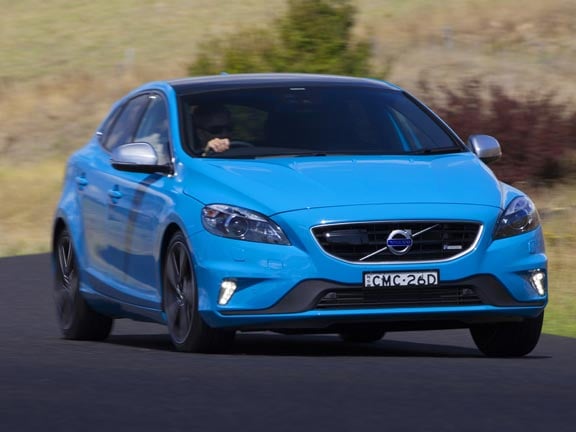 Base price: $64,990.
Powertrain and performance: 2.5-litre turbo-petrol inline five, 187kW/360Nm, 6-speed automatic, front-drive, Combined economy 8.1 litres per 100km, 0-100km/h 6.5 seconds.
Vital statistics: 4369mm long, 1420mm high, luggage capacity 334 litres, fuel tank 52 litres, 18-inch wheels.
We like: Style, sonorous engine, surprise factor.
We don't like: Lethargic gearbox, chassis grippy rather than lithe.
How it rates: 7/10
WHAT DO I NEED TO KNOW?
Volvo has successfully blended its core attributes of safety and sensible packaging with high style in recent years. Now, it wants to show it can do cars that are a bit special as well.
The V40 T5 R-Design is a case in point. The V40 is a five-door hatchback that presents as the thinking person's alternative to established (read obvious) premium small-cars like the Audi A3, BMW 1-series or Mercedes-Benz A-class.
All of those German brands are very good at producing sporty versions of their premium hatches: cars that feel really special, with more performance, handling ability and of course style.
Enter the flagship V40 T5 R-Design, with a high-powered turbo-five-cylinder, sports chassis and plenty of extra equipment.
WHAT'S IT LIKE TO DRIVE?
There's a lot of Ford Focus in the V40: it's the last Volvo that will be based on the so-called C1 platform (shared between Ford/Mazda/Volvo) and while the five-pot engine is its own, it was previously used in the Focus XR5.
Having said that, the V40 doesn't feel anything like a Focus. Volvo has its own values when it comes to how a car behaves on the road, so the V40 is more under steer biased, less adjustable and more grippy. That's not to say it's dull: the sonorous five-cylinder powerplant gives the car a menacing feel, it's strong on torque and you can cover ground very quickly indeed.
The six-speed automatic transmission is slick, although it pursues the higher gears a bit too enthusiastically for a warm-hatch. Sport mode is better, but if you want to shift manually you'll have to do it with the level: there are no steering wheel-mounted paddles.
IS IT EASY TO LIVE WITH?
Volvo never fails to impress on cabin quality and ergonomic simplicity. The V40 offers an fantastic cabin environment and while it's a bit more button-heavy than some larger Volvo models, everything still feels wonderful and the controls fall easily to hand.
You really won't have to consult the handbook – unless it's to work out the three-mode digital dashboard, which can be set to economy, elegance or sport graphics. A novel idea, although two of the three are quite similar and I suspect you'll pick a favourite and never touch it again. I opted for sport, which offers red tones, a large central tachometer and digital speed readout.
Don't make the mistake of thinking the V40 is a spacious wagon in old-school Volvo style. It's well packaged but interior space is still partly determined by the svelte exterior styling. As is the case with most cars in this segment, it's a small hatch rather than a family carry-all.
SHOULD I BUY ONE?
The V40 T5 R-Design is a bit rough around the edges compared with, say, a Mercedes-Benz A 250 Sport or Volkswagen Golf GTI (which are similar prices). The Volvo doesn't quite have the slick powertrain and fluid chassis characteristics of Germany's best. Realistically it doesn't have the same easily recognizable prestige, either – although that's a matter of opinion and perhaps taste.
But what may be perceived as a disadvantage for the Volvo could also add to the appeal: it's an engaging car, it's absolutely packed with character thanks to that growling engine and it has a surprise-and-delight factor that its immediate rivals lack.
The head says no, the heart says yes.
EQUIPMENT CHECKLIST
Air conditioning: Dual climate
Audio: CD, iPod compatible
Automatic lights/wipers: Yes/yes
Blind spot warning: $1400
Bluetooth: Yes
Cruise control: Yes
Driver footrest: Yes
Gas discharge headlights: Bi-xenon adaptive
Head-up display: No
Heated/ventilated seats: $355 front, $575 rear/No
Keyless entry/start: Yes/Yes
Lane guidance: No
Leather upholstery: Yes
Parking radar: Yes with camera
Power boot or tailgate: No
Power seat adjustment/memory: Yes/Yes
Remote audio controls: Yes
Satellite navigation: Yes
Seat height adjustment: Yes
Self-parking technology: No
Split/folding rear seats: 60/40
Steering reach adjustment: Yes
Stop-start: Yes
Trip computer: Yes
Find a Volvo V40 HERE