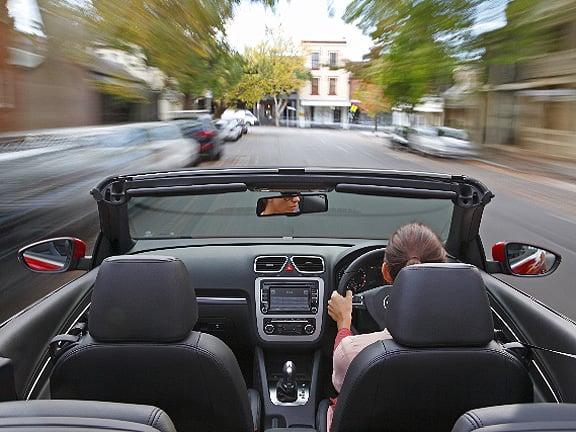 Styling is always an issue with these kinds of vehicles: folding roofs are clever and give you open-air motoring without any compromise in weatherproofing and/or security. However, the space required to house all those hard panels usually necessitates an unattractive, oversized rear section.
The Eos has a rear deck that's generously sized but not totally out of proportion. What's more, it maximises that folding-top technology by partitioning the roof in five sections (three are more common among its rivals). So in addition to the drop-top, you get a 'panoramic' glass centre section that also operates as a separate sliding sunroof.
Another downside for most folding-roof convertibles is brand association. These kinds of cars are all about fashion and status, yet they're niche products that don't justify the cost of bespoke underpinnings, so they're usually based on mainstream hatchbacks – and look it. Not Eos. Yes, there's a lot of Golf under there. But this model has its own name, its own visual style and some unique interior elements that set it apart from more humble VW models.
Having said that, the most recent facelift takes quite a lot of the unique visual identity away from Eos, as VW seemingly strives to plaster the same corporate look on every model, large and small. No, the Eos doesn't look exactly like a Golf – but it does look like a generic VW. Shame. Shall we just say it's disappointingly handsome?
The final bugbear with these kinds of cars is driving dynamics – not surprising when you take a humble family car, remove torsional rigidity and add weight. The Eos suffers from all of the above, but the 2.0-litre turbocharged engine and Direct Shift Gearbox (DSG) are so smooth and lively that it's still an enjoyable drive. Same goes for the chassis – scuttle shake is still apparent on bumpy surfaces or at speed, but there's enough steering integrity and cornering ability to keep you interested on a demanding road.
No, folding-hard-top convertibles are not for the enthusiast. But given all of the compromises that usually come with them, it's very easy to be enthusiastic about the VW Eos.