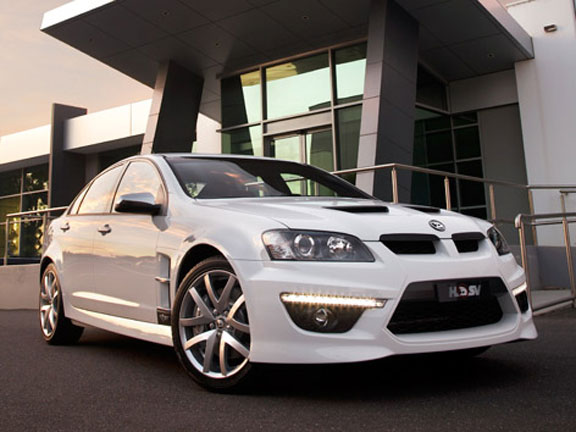 The 2010 HSV ClubSport GXP and Maloo GXP are based on the Pontiac G8 GXP in the US, with only 400 ClubSport GXPs and 350 Maloo GXPs scheduled for production.
New Zealand will reportedly get 43 sedans priced from $76,990 and nine utes priced from $68,590.
HSV Managing Director Phil Harding says the introduction of the new models as an "outstanding opportunity" to complement the brand's existing line-up.
"We receive lots of enquiries about introducing a model to sit as an entry level to our brand and the GXP program provides us this opportunity," Harding said.
"I have always said that in order for a car to wear the HSV badge it needs to satisfy three criteria – Performance, Handling and Design. Clearly these cars tick all three boxes."
Style-wise, both the ClubSport GXP and Maloo GXP feature the new E-Series 2 face, and at the rear Holden's satndard tailights and bumper are present. The ClubSport GXP getting the black-backed SS lamps and the Maloo GXP the regular lamps of the SS Ute. The ClubSport GXP also gets a lip spoiler straight from the Pontiac G8 GXP.
The Maloo GXP gets the standard Holden-issue soft cover, rather than the hard tonneau cover of the regular HSV model.
Both models feature the same 19×8-inch alloy wheels offered with the first-generation E-Series ClubSport.
Inside, both models are fitted out with the standard E-Series 2 ClubSport R8 interior, with sports cloth seats.
The equipment and features of the two GXP models are largely unchanged from HSV's regular offerings, except for chrome highlights to the external mirrors, door handles and side air vents, plus a silver engine cover.
Optional extras include satellite navigation, rear park assist, sunroof and a roof-mounted DVD player for the ClubSport GXP.
Electronic Stability Control (ESC) incorporating ABS, EBD, EBA and TCS, is standard.
Both the ClubSport GXP and Maloo GXP are powered by HSV's 6.2 litre LS3 V8, offering 317kW of power and 550Nm of torque. HSV's six-speed manual transmission is standard with both models.