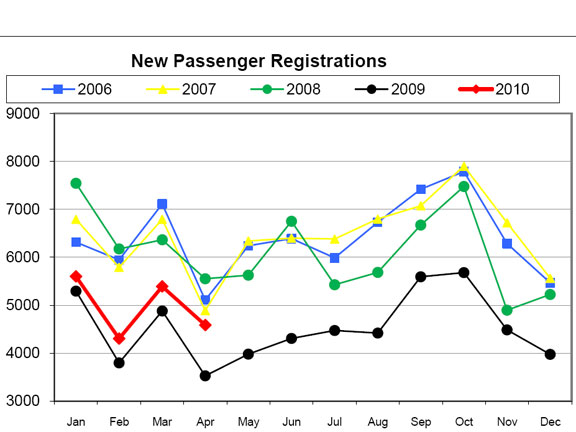 According to the Motor Trade Association (MTA) with registration data just released by the NZ Transport Agency (NZTA), April new car sales were down by 15% compared to March. New car sales in April totalled 4585 units, 807 units below the 5392 achieved in March.
However, for the year to date, the 2010 passenger car market is ahead of 2009 by 2383 units, or 14%. And, the year-on-year comparison shows that compared to 2009, new car sales in April 2010 were 1060 units or 30% ahead.
MTA Marketing and Communications General Manager, Ian Stronach says, "The new car market continues to show improving health, and the year on year comparison is providing a welcome boost for the industry after some lean times.
"April is always a lower month than March. The combination of the Easter break and school holidays has undoubtedly contributed this time around, but looking at where things were a year ago, this is quite heartening."
Toyota remained as market leader with sales of 757 units and a 16.5% share, followed by Holden with 503 units (11%), just 14 units ahead of Ford with 489 units (10.6%) and Hyundai whose 405 units (8.8%) was enough to head off Mazda in fifth place with sales of 402 units (8.7%).
Toyota continues to lead the new car market for the year to date followed by Holden, Ford, Mazda and Hyundai.
Small cars led the market with Toyota Corolla (275 units) just edging out Suzuki Swift (268 units). Holden Commodore (213 units) again proved the large car exception taking third spot ahead of Mazda6 (168 units) and Ford Mondeo (159).
Used import registrations of 7053 were off by 10% compared to March, but were up strongly (48%) over April 2009 levels. There has been steady growth in this market in recent months, and it is now 43% ahead of the same time last year.