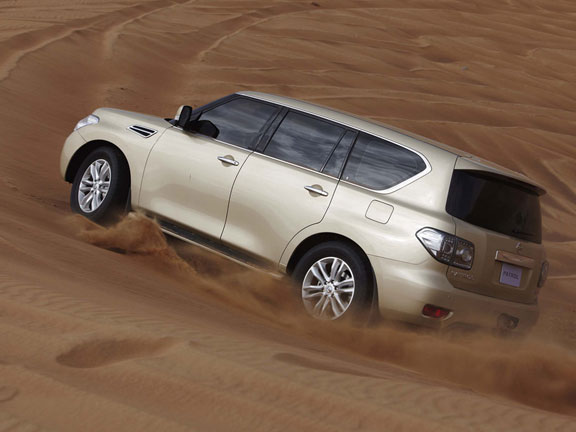 The new Patrol will feature a 5.6 litre V8 in it's engine line-up, replacing the 4.8 litre V8 of the outgoing model.
While Nissan has not revealed the new Patrol's full engine package, the new 5.6 litre reportedly develops 300kW and 550Nm of torque.
A new seven-speed automatic transmission will be paired with the V8, along with an upgraded four-wheel-drive system that includes settings for driving on road, sand, snow and rock.
Four-wheel independent suspension replaces the previous model's rigid axle setup. A new Hydraulic Body Motion Control system is also featured.
Nissan Product Design Director, Taiji Toyota, said the new Patrol was designed to appear less rugged, taking on a more upscale look.
"Not as edgy and hardcore as its predecessor, the softer new surfaces are beautiful and add a sense of modernity to the design equation, while still maintaining a ruggedness and commanding road presence," Toyota said.
He described the new Patrol's cabin as a "better, higher quality interior for the whole family".
Depending on the trim level, features of the new Patrol's interior include leather upholstery, polished aluminium highlights and wood grain paneling. A new multi-screen DVD system figures on the new Patrol's options list, with two headrest-mounted seven-inch screens to entertain rear passengers.
More details are expected to be revealed next year.
See the Nissan Patrol for sale here.