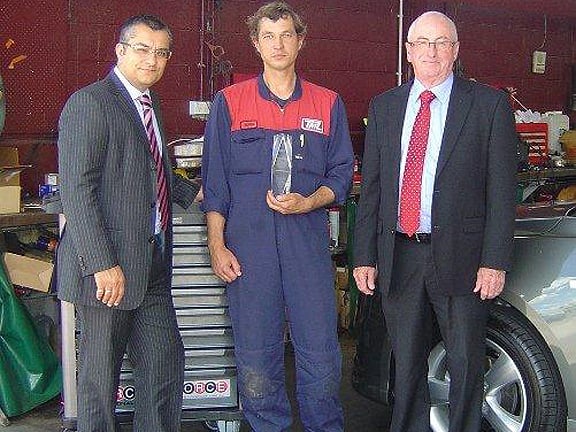 Sergii Zablotskyi from Rosetown Holden, Te Awamutu, won the grand final in a fiercely fought battle, pitting his skills against 17 other finalists, chosen from six regional competitions.
The Ukraine born Kiwi arrived in New Zealand six years ago specialising in American cars, and through his mother in law who worked at Te Awamutu High School, was introduced to Rosetown Holden.
Dealer Principal at Rosetown Holden, Stu Tervit, met Zablotskyi through Graham Sharp, Rosetown Holden's newly appointed Service Manager, "Sergii's English was pretty basic, but I was impressed with his references in both mechanics and electronics," Tervit said.
"Graham put Sergii through his paces and was blown away by his skill and knowledge. We hired him on the spot and couldn't be happier with his achievements," says Tervit.
Holden created the competition more than two decades ago, in an effort to keep technicians and mechanics up to date with the constantly changing automotive industry and the rapidly evolving technologies.
Presenting the awards at the Grand Final was V8 Supercar driver Garth Tander.
First – Sergii Zablotsyi, Rosetown Holden, Te Awamutu, NZ
Second – Darren Ottey, Metro Motors Holden, WA
Third – David Elliott, Hamilton Holden, SA
The top three technicians also won an ultimate V8 Supercar Weekend on the Gold Coast next month and picked up a 296-piece roll tool chest.