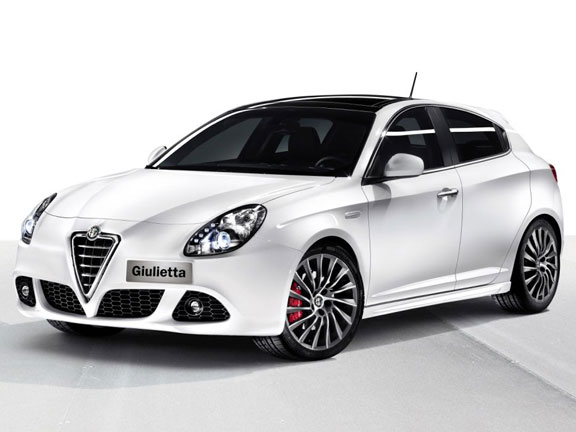 The new Alfa Romeo Giulietta sedan is designed to replace the current Alfa Romeo 147, and was initially rumoured to be called Milano.
However, recent employee unrest at Alfa's Milano facility reportedly caused that name to be dropped.
The Giuletta face shares the rounded LED headlights with the MiTo, but has a new grille inset between the front airtakes. Similiar to recent Alfa sedans, its rear door handles are concealed to create a sleek appearance.
The Giulietta is based on an all-new platform that incorporates both steel and aluminum, and will give European buyers the option of four turbocharged engine options at launch – two petrol and two diesel. The petrol option features two 1.4-litre four-cylinder engines that produce 120 hp and 170 hp with Fiat's MultiAir technology. Diesel engines will consist of a 105hp 1.6-litre and a 2.0-litre engine that produces 170hp. Later a "1750 TBi" gasoline engine will be available with a sports-oriented Quadrifoglio Verde package producing 235hp.
Inside the sporty Giulietta you'll find the classic ribbed seat style, aluminum dashboard accents and rocker-style switchgear, and twin moonroofs for the front and rear passengers also appear to be an option.
Alfa will bring the Giulietta to the 2010 Geneva Motor Show in March for its world debut before it hits European showrooms in Spring of next year. No word yet on if or when it will reach New Zealand shores…
See a range of Alfa Romeo for sale here.