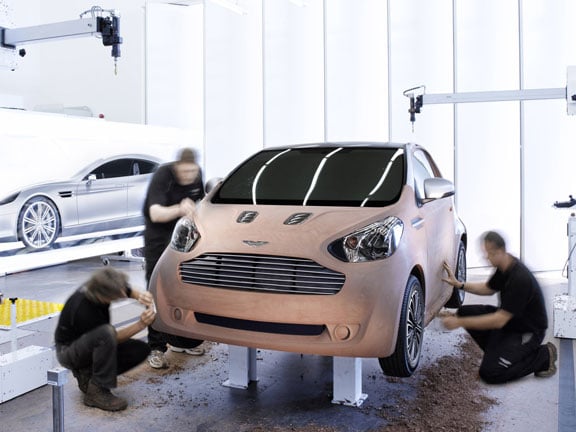 The concept will offer Aston Martin trademark design in a commuter car package based on the Toyota iQ with a Euro NCAP 5-star safety package.
Aston Martin says its Cygnet Concept represents a creative, environmentally conscious solution, being small, and highly fuel efficient, combined with the prestige of Aston Martin's luxury brand.
Aston Martin is collaborating with Toyota on the Cygnet.
Aston Martin Chief Executive, Dr Ulrich Bez said: "Now is the right time for Aston Martin to take this first bold step to embark on this special project – made possible with the support of an organisation of Toyota's stature and capability and the intelligent design and perfect city car package of the iQ.
"Much work is still required, but I am confident that this project could become reality in the not too distant future. This concept – akin to an exclusive tender to a luxury yacht – will allow us to apply Aston Martin design language, craftsmanship and brand values to a completely new segment of the market."
Aston Martin will initially only offer the Cygnet to exicting Aston customers.
"The offering of a Aston Martin Cygnet with a DBS, DB9 or Vantage is a unique combination of opposites and a novel transport solution allowing intelligent and sensitive mobility on an exclusive and innovative level."
The Cygnet, which is expected to be offered with the 1.33-litre four-cylinder Toyota iQ engine, will have near-identical fuel consumption and emissions to its Toyota cousin, making it the greenest Aston ever.