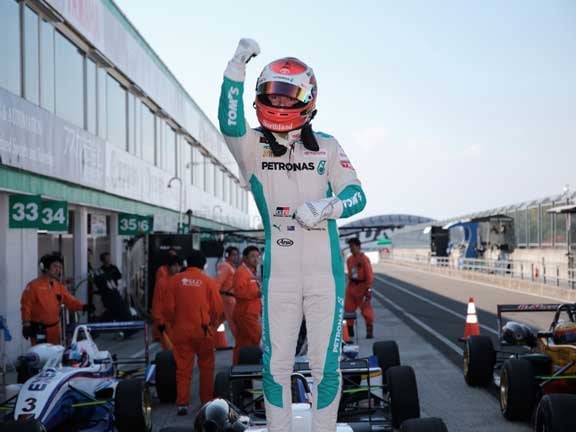 Considered the world's fastest touring car series, it has an eight round championship.Still only 21 years old Cassidy has had an extremely successful career to date, winning the Toyota Racing Series twice and the New Zealand Grand Prix three times.
"It is every young drivers dream to become a Factory supported racing driver, so I am extremely proud to be joining Lexus TOM'S team this year," said Cassidy. "I know I have a steep learning curve ahead of me, but I am ready to do everything that is possible to learn off those around me."
Cassidy said he was fortunate to be sharing the car with Daiske Ito, an extremely experienced driver in Super GT. "I am not underestimating the challenge ahead – but one I am really looking forward to."
Race distances vary between 300km and 1000km over the course of the championship, which have unique challenges. Cassidy will need to navigate past the slower GT300 class traffic, plus various tyre strategies as a result of teams being allowed to use unlimited compound and construction tyres from four different brands.
Adding excitement, but also complexity to team strategy is the emphasis on performance ballast. A driver pairing's added ballast (in Kg) is equal to the amount of points they have in the championship. The more successful a team is, the more ballast they have to carry.
Cassidy is familiar with six of the eight circuits from his Formula 3 campaign and will only have to learn the Autopolis track in Japan and Bariram in Thailand.
His Super GT campaign will start in early April at Okayama.
Japanese Super GT Race Calendar
Apr. 9-10 Okayama Intl. Circuit – Japan
May 3-4 Fuji Speedway – Japan
May 21-22 Autopolis – Japan
Jul. 23-24 Sportsland SUGO – Japan
Aug. 6-7 Fuji Speedway – Japan
Aug. 27-28 Suzuka Circuit – Japan
Oct. 8-9 Chang International Circuit – Thailand
Nov. 12-13 Twin Ring Motegi – Japan