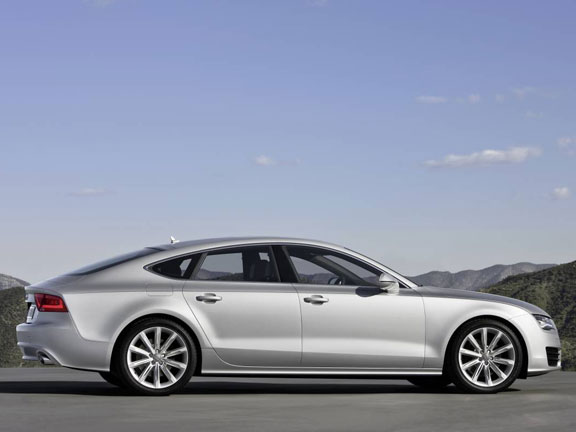 Audi describes its new 5-door fastback coupe as "a combination of elegant coupe, sport sedan and practical wagon".
It will slot between the Audi A6 and Audi A8 saloons, offering all the luxury but with a more dynamic look and feel. Thanks to its hatchback it actually has a bigger boot than the A8, measuring 510 litres and expanding to 1,390 with the rear seats folded.
The A7 features a lightweight body combining aluminium and high-tech steel, and is powered by a set of V6 engines. Audi is predicted to add some V8 power plants later on.
Two petrol engines, 2.8- and 3-litres, deliver 201 and 296hp respectively. The larger engine car accelerate from 0-100kph in 5.6 seconds.
The diesels are both 3-litre units with a choice of 201 and 242hp.
All engines will be coupled to automatic transmissions, either the multitronic CVT for front-drive variants, or the seven-speed S tronic for the Quattro-fitted models.
All variants will come with thermal management, energy recuperation and stop-start systems to improve fuel-economy. Other technology features include a Head Up Display – projecting information onto the windscreen, LED headlights and optional Google Maps sat-nav.
Inside there is plenty of leather and matt wood trim oozing luxury, and the driver and front passenger sit low, between a large centre console, with dashboard controls angled towards the drivers seat.
The Audi A7 Sportback will arrive in Europe in January 2011, with NZ at a later date.