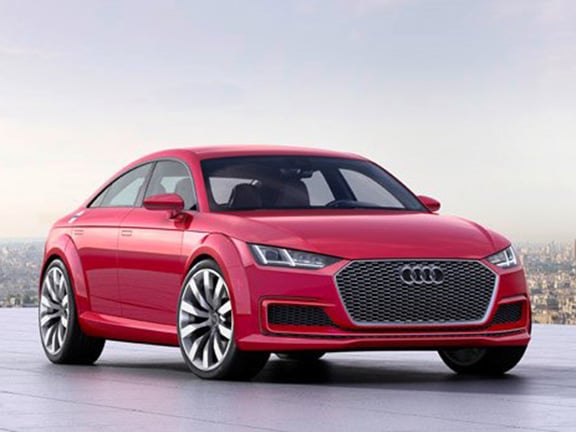 The exterior of the show car invokes the design idiom of the classic TT, developing it into a new, elongated sculpture. It is driven by a high-powered 2.0 TFSI engine that delivers 294 kW (400 hp).
The Audi TT Sportback concept captivates with the power of 294 kW (400 hp) that flows through a seven-speed S tronic to the quattro permanent all-wheel drive. The sprint from 0 to 100 km/h (62.1 mph) takes just 3.9 seconds.
The sophisticated suspension and the low center of gravity ensure dynamic handling, and the body integrates a number of lightweight aluminum components. A laser spot that complements the LED high beam is featured in each of the headlights – this innovation from Audi significantly boosts safety when driving in the dark.
The Audi virtual cockpit dominates the elegantly designed interior of the show car, with the 12.3 inch screen replacing the conventional instruments and the MMI monitor.
Featuring Mars red paintwork, the body is a statement of powerful elegance: High-precision lines border athletically domed surfaces, and a flat greenhouse is positioned on a powerful body.
Audi board member for technical development Ulrich Hackenberg commented: "With the TT, Audi created one of the automotive design icons of the last 20 years. In the years since, we have designed our sporty and elegant five door Audi A5 Sportback and Audi A7 Sportback.
"In our Audi TT Sportback concept show car, we are now fusing both concepts to form a new member of a potential TT family."
Meanwhile, the new Audi TT concept has won the innovation of the year award at the Automotive Brand Contest.
Browse Autotrader's range of Audi cars for sale.