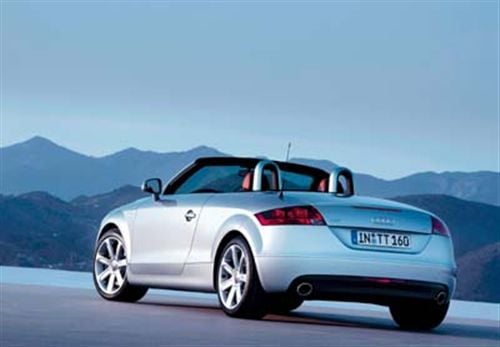 The second generation Roadster uses aluminium and steel hybrid construction, and has magnetic ride and a new fully-automatic roof.
The hybrid Audi Space Frame (ASF) bodyshell blends 58 percent aluminium and 42 percent steel to minimise weight, maximise stiffness and enhance chassis dynamics. The four-cylinder Roadster weighs 1295kg unladen, and body rigidity has been increased by 100 percent.
The new Roadster retains a cloth hood – electrohydraulically powered in both versions. It's lighter than before because of a new steel and aluminium support framework. An additional layer of soundproofing improves insulation.
The ragtop has a heated glass rear window, raises or lowers in 12 seconds, and can be operated at speeds of up to 50km/h. A new Z-fold system stacks the rigid front section of the roof on top of the cloth to form a cover, ensuring that the lowered hood sits completely flush with the body, eliminating the need for a tonneau cover.
Operation is now also completely hands-free, with no need to attach or detach the hood to or from the windscreen rail.
In Europe, Audi is offering TT Roadsters with 200bhp 2.0-litre Turbo FSI or 250bhp 3.2-litre V6 petrol engines. The 2.0-litre cars are front-wheel drive; the 3.2s have quattro four-wheel drive.
Six-speed manual gearboxes are standard on both versions, with the S tronic twin-clutch automatic transmission (formerly known as DSG) available as an added cost option.
A new suspension configuration incorporates a multi-link set-up at the rear for optimum composure at speed. Stability is helped by the wider track, and new electromechanical speed-sensitive steering and a high performance braking system.
A magnetic ride system is available as an optional extra. Its dampers are filled with a magnetorheological fluid containing minute magnetic particles that can be influenced by an electromagnetic field. By applying voltage to the system's electromagnets, the viscosity of the fluid is altered by the magnetic particles, increasing resistance to damper movement to iron out pitch and roll when necessary, and reducing resistance when ride comfort takes precedence.
Stability at speed is also enhanced by an electrically powered rear spoiler which helps to increase downforce.