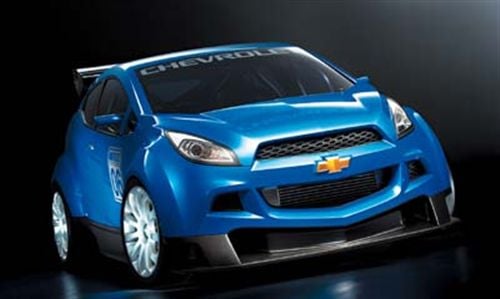 The car's body panels, finished in Stealth Blue paint, are made of glassfibre and carbon-fibre laminate to keep weight to a minimum.
Inside, the car is every inch a bespoke racing car, with rubberised black paint on the dashboard.
"We wanted to explore the concept of a Chevrolet muscle car reinvented for Europe," says design chief David Lyon. "The Ultra is a car that celebrates Chevy's racing heritage with a very forward looking design."
The WTCC Ultra is a fully working vehicle, powered by a 190bhp common-rail diesel engine based on the unit that's soon to debut in the all-new (Daewoo/Holden) Captiva SUV.
Engineers and designers from all over the world worked as a team on the WTCC. The initial concept and early design work was carried out in South Korea at the GM DAT Advanced Design Studio, while the dynamic look was the responsibility of 25-year old Ewan Kingsbury, a graduate of Coventry University now working for GM's Australian styling department.
Colour and materials design was the work of Breony Crittenden, also of GM Australia, and the design was coordinated by engineers in the USA and Switzerland. Final construction of the prototype took place in Japan, with the help of British motorsport specialists Ray Mallock Ltd, the
technical partner of the Chevy WTCC Touring Car race team.