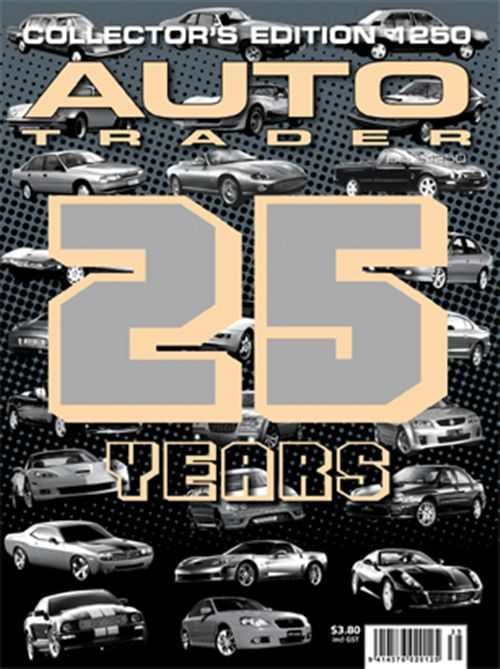 The collector's 25th anniversary edition looks back over the past 25 years with detailed coverage of four iconic cars, the Ford Falcon and Mustang, and the Holden Commodore and Chevrolet Corvette, among a host of other stories. Over its 25 year history the magazine has published an astounding 4 million cars for sale with photos!
The Auto Trader story began in 1981 when a magazine began publishing out of a domestic garage in southeast Auckland. Founder Ed Lamont, who had been a car salesman and dealer himself, saw the need for a magazine in which private sellers and dealers could offer cars for sale using what was then a revolutionary tool – a photograph of the car itself! The concept took off like wildfire at a time when newspaper used car adverts were purely text, and within a couple of years, Auto Trader was a household name, and the magazine was changing forever the way used cars were advertised in the print media.
In 1993, Auto Trader took a major leap forward when ACP, acquired the title and evolved it into the glossy full-colour magazine it is today. ACP launched successful spin-offs out of Auto Trader such as Trade-A-Boat, Motorcycle Trader, Deals on Wheels and Farm Trader.
Auto Trader is New Zealand's most popular multi-media brand for buying and selling cars. The "Auto Trader brand's total audience reach continues to grow with the weekly national publication now complemented by nine free regional auto sales publications and the fast growing autotrader.co.nz website," said Lee Williams, ACP's Digital Director.
Williams continues 'the brand Auto Trader continues to evolve and we look forward to the next 25 years of embracing and leading the new wave of channels to market for buying and selling cars'.
For more information please contact:
Lee Williams
Digital Media Director
ACP Media
DDI: 09 308 2804
Mobile: 0275 533 660