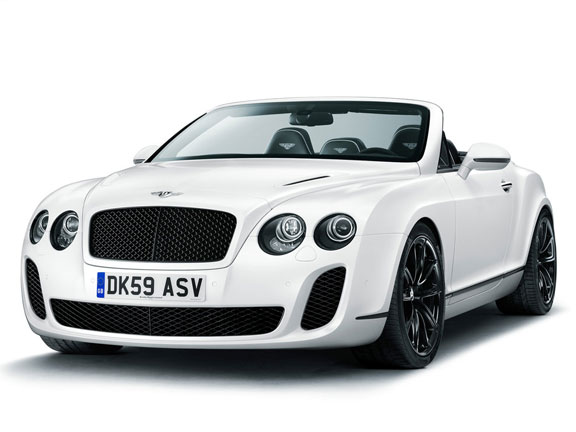 The new Bentley Continental Supersports convertible is the fastest drop-top ever built by the British supercar maker, making the 0-100kmh sprint in 4.2 seconds. Top speed is 325kmh.
To pull its 2.4-tonnes it needs some serious power under the bonnet. There you'll find a twin-turbocharged W12 engine that pumps out 621bhp/463kW of power and 800Nm of torque.
The inspiration for the 'Supersports' name is the 1925 Bentley Supersports, a race-bred version of the iconic Bentley 3-litre, that delivered 85bhp when more ordinary cars were equipped with a modest 15bhp. It was also the first production car to reach 100mph – extreme performance in its day.
The new Supersports is bio-fuel compatible, capable of running on up to 85% ethanol. Bentley plans to have every vehicle in its range E85-compatible by 2012, claiming a 70% reduction in net CO² emissions over the lifecycle of the vehicle.
Bentley says the car's fuel-supply system can detect the blend of fuel in the tank and adjust the engine mapping to ensure maximum power and torque regardless of the petrol-ethanol mix.
The standard Bentley six-speed ZF transmission has been revised to deliver shorter shift-times and allows the driver to double-downshift, while the all-wheel-drive system now allows the torque to be split 40-60 with a bias towards the rear wheels.
On the outside, distinctive centre air intake and vertical grilles feed a larger volume of air (+ 10%) to turbocharger intercoolers while bonnet vents extract hot air from engine bay.
Other modifications include stiffer settings for the car's continuous damping control system, larger twin elliptical exhaust tailpipes, fixed rear bootlid spoiler for improved aerodynamics, carbon ceramic brakes and black callipers on the 20-inch wheels.
The Bentley's three-layer fabric roof is insulated and can be ordered in eight different colours. Inside, the cabin is decked out in soft-touch leather on the massaging seats, carbon fibre inserts and diamond-quilted Alcantara suede.
Options include veneered picnic tables with vanity mirrors for the rear seats, a jewelled alloy fuel filler cap and lambswool rugs.
See new and used Bentley for sale.
Quick specifications:
Engine 6.0-litre twin-turbo W12
Transmission Six-speed automatic
Power 463kW at 6000rpm
Torque 800Nm at 2000-4500rpm
Performance 0-100km/h in 4.2sec (claimed)
Top Speed 325km/h
Fuel consumption 16.7 litres per 100km
Kerb weight 2395kg