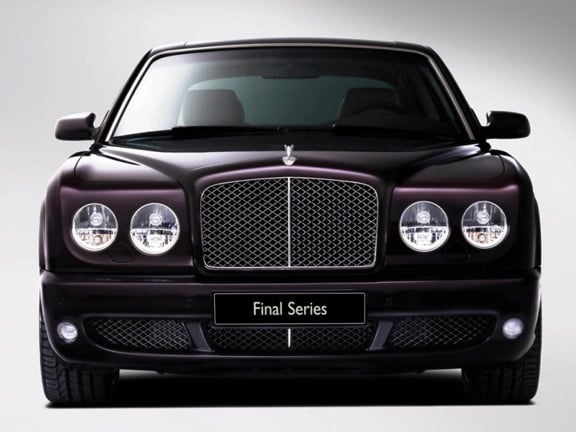 Next week's Paris Motor Show will see Bentley unveil the flagship Arnage saloon in the form of a "Final Series" edition before the all-new model arrives in 2010.
Derived from the sports-oriented Arnage T released last year, the Final Series models will get the same 500hp (373kW) 6.75-litre V8 engine that develops a massive 738lb-ft (1000Nm) of torque and a 6-speed automatic.
Performance is expected to be very tidy with 0-62mph times of around 5.5s and a top speed of 180mph (290km/h), despite the weight of close to three-tonne.
Hand-stitched leather and polished wood feature, and alos a bespoke flask and shot glasses for rear-seat passengers stowed in a cocktail cabinet. Rear seat passengers also get seatback picnic tables.
On the outside Bentley has fitted the obligatory "Final Series" badges on the front fenders. It also gets the Brooklands' more aggressive front-end with lower air intakes.
Finally, Bentley is offering the famous retractable hood ornament and a jewel filler cap as standard equipment as well. Buyers will be able to option the new "Bentley by Naim" audio system along with iPod connectivity too.
See all used Bentley Arnage for sale