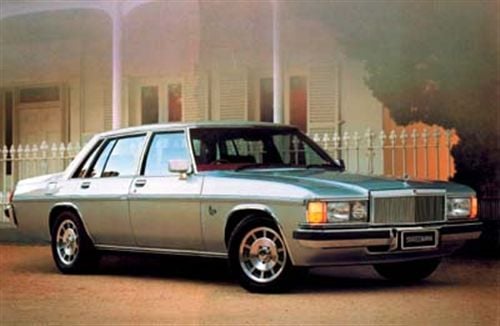 The Statesman arrived as part of Holden's then-radical HQ range in July 1971. The HQ brought with it a separate front subframe and much-improved chassis dynamics than the outgoing HG.
The Statesman was built on the longer-wheelbase station wagon platform – the car was 260mm longer than the standard Kingswood sedan – and had a distinctive front end with two large air intakes, Cadillac-like vertical taillight clusters and a more upright rear screen in place of the HQ sedan's fastback-influenced rear end.
It was sold in six-cylinder and V8 versions and in Statesman and Statesman De Ville versions, the latter, more upmarket variant used its name to emphasise the Cadillac connection.
The Statesman was also sold in South Africa with a Chevrolet nameplate and Chevy-style one-aperture grille with prominent horizontal bar. Powered by the 5.7-litre V8, some Statesmans came to NZ as Chevys.
The Caprice name for an even more upmarket Statesman variant appeared with the HJ in
1974, the base model Statesman adopting the De Ville monniker.
But the most significant thing to happen to the Statesman was the adoption of Radial Tuned Suspension with the HZ in 1977.
Suspension and steering changes produced less bodyroll, greater agility and good handing. Combined with Holden's energetic 5.0-litre V8, RTS turned the Statesman into a luxury car that could be driven enthusiastically.
The HQ derived Statesman's final hurrah came with the WB, introduced in 1980.
Holden had toyed with the idea of a Kingswood/Statesman range both using the long wheelbase platform and selling alongside the smaller Commodore, but eventually the Statesman/Caprice was the only WB sedan.
It went even more Cadillac-like, with formal rear roofline and shallow rectangular grille,
and Holden even got permission to use Cadillac's emblem on the Caprice.
The WB Statesman was built until October 1984, and even in 2006, remains a handsome, if unashamedly American-looking, large luxury car.