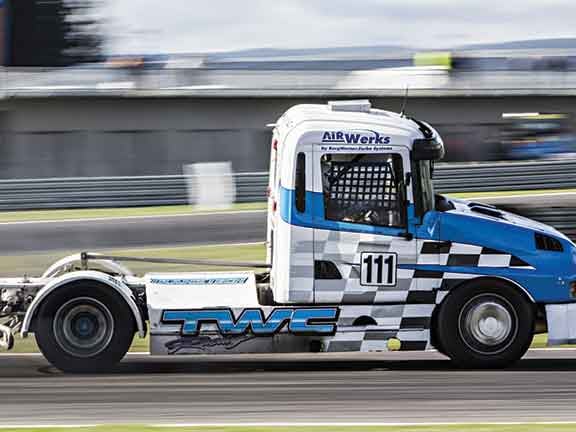 It is 10-years since the NZ SuperTrucks last raced at Pukekohe, and it is expected at least 11 of the massive beasts will return to the circuit as well as a host of former champions such as Ron Salter, Andrew Porter and Calven Bonney.
As well as the trucks, eyes will be on the final round of the BNT NZ SuperTourer endurance race series, and young Aucklander Richard Moore who comes off a round win at the last event at Hampton Downs a month ago.
Moore and his co-driver, full-time Supercar racer Tim Slade, go into the Fuchs 500 meeting second on points behind Supercar race-winner Shane Van Gisbergen and fellow Aucklander Simon Evans.
After three years in the top Kiwi series the ambitious Moore, 22, reckons he is now able to run with the very best. He and Slade won a race in the second round at Hampton Downs, and driving alone he won a sprint race at Pukekohe in April.
"We've sort of built that speed from the sprint season and now with Tim here I think the level's stepped up a bit from last year," he says. "We're pretty confident now that we're a leading force and we really want to take it to that leading car of Simon and Shane.
"We're really confident we've got what it takes to take out the endurance championship. We're certainly going to be pushing pretty hard to make that happen.
"Throughout the season we've been really fast and consistent and we just need to make sure we put the pressure on and try to force a mistake."
Moore is part of the M3 team, along with Greg Murphy and Paul Manuell, and he says he has learnt a lot from them, sharing data from their cars and listening to their advice.
"Working with Murph and Paul has been great and I'm pretty confident now that I'm giving back to them as well and they're learning things from me," he says.
But it's even better when Slade, who races the Supercheap Commodore in Australia, joins him because they are in the same car at the same meeting rather than comparing cars that might be slightly different. They can work together to find the best setup for each race.
"When he comes over and we get into the car at the same meeting it massively boosts my performance," Moore says.
In the NZ SuperTrucks, Clevedon racer Troy Wheeler says the Pukekohe event will be Round 1 of a 5 Round championship for the trucks and is rejuvenation for the series.
"For NZ SuperTruck racing fans, getting these big rigs back to Pukekohe is fantastic. There are a lot of truck racing fans in and around Auckland, and these things are bloody exciting to watch, if you haven't seen them before, you need to get along," says Wheeler.
"We're excited to get out on the new track format. We'll hit our top speed of 160km/hr part way down the back straight, and the new section down the end will provide a couple of new passing opportunities for our trucks and drivers."
Returning to the series, is three time champion Andrew Porter, and the former champ say's he can't wait to get back behind the wheel of his 1200hp Kenworth.
"Pukekohe is a fantastic track for the truck racing, not only as drivers, but it's awesome for fans to watch."