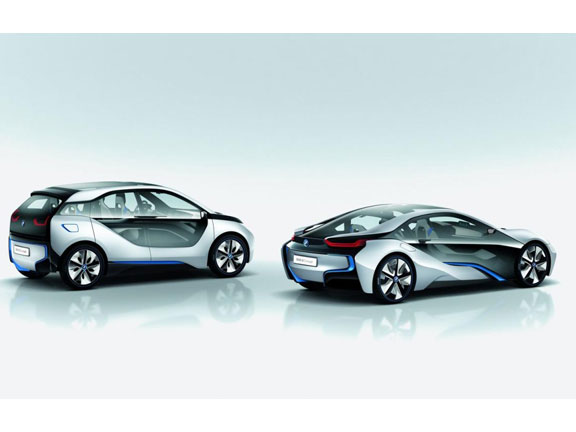 The BMW i3 Concept is an all-electric urban cruiser with an electric motor mounted on the rear axle which produces an output of 125 kW (170hp) and 250 Nm (184 lb-ft) of torque. It will come with the option of a petrol range-extending engine that acts as a generator to provide it with a range similar to today's small cars.
The four-seat i3 will reportedly accelerate from 0 to 60km/h in under four seconds and reach 100km/h in around eight seconds.
The i8 Concept is a plug-in hybrid sports car that features the same electric motor as the i3, but this time mounted at the front axle, coupled with a 1.5-litre, 3-cylinder petrol engine turbocharged to deliver 164kW and 300 Nm (221 lb-ft) of torque which drives the rear wheels.
Top speed on the i8 is electronically-limited to 250km/h. It can travel up to 35km on electric power alone and fuel-economy comes in at under 3L/100km.
Distinguishing the BMW i brand are new construction principles which BMW calls LifeDrive. LifeDrive is comprised of two modules: on the i3, the Drive module makes up the power train, vehicle suspension, and battery and contains it in an aluminium structure which provides crash protection too. The Life module makes up the passenger cell and body paneling and makes use of high-strength and lightweight CFRP – carbon-fiber reinforced plastic.
The i8 features another LifeDrive construction where the front and rear axles, battery and passenger cell comprise the Drive unit of the car while the rest makes up the Life module with heavy use of CFRP.
The i3 and i8 will be assembled on a dedicated line at BMW's Leipzig manufacturing base in Germany, and production versions will go on sale in 2013.