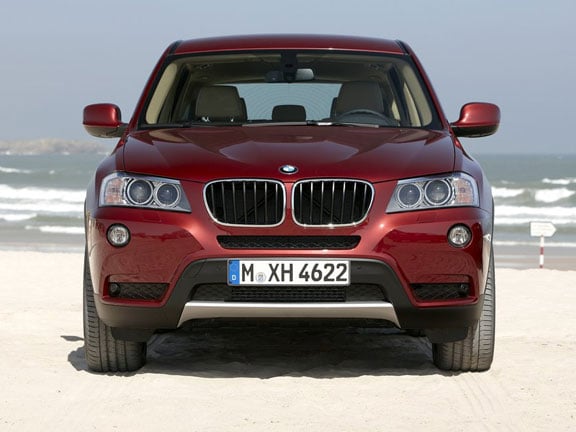 The new BMW X3 is due to be launched later this year, with one petrol and one diesel engine. BMW says it will also release a range of four-cylinder petrol engines and a 2.0-lire diesel in 2011.
The 3.0-litre petrol-fueled xDrive35i uses a turbocharged straight-six direct inection engine., delivering 306hp (225 kW), and up to 400Nm of torque from a lowly 1300rpm. It will reportedly make the 0-100kmh sprint in 5.7 seconds on its way to a top speed of 245kmh.
The 35i will burn 8.8 litres of fuel per 100km, and emits 204 grams of CO² per kilometre.
Mated to an eight-speed automatic transmission, the xDrive35i is the first BMW automatic to be fitted with start/stop.
Meanwhile, the xDrive20d gets start/stop with its manual transmission.
The diesel model utilises a 2.0-litre four-cylinder turbocharged engine with both an aluminum crankcase and Common Rail direct injection. Delivering 184hp (135 kW) and up to 380 Nm of torque, the vehicle will hit 100kmh in 8.5 seconds before topping out at 210kmh. Emissions are 149 grams of CO² per kilometre, using 5.6 litres of fuel per 100km.
The new BMW X3 is noticeably larger than its predecessor, boosted by 12mm in height, 83mm in length, 28mm in width and sitting 12mm higher off the ground. The wheelbase is also longer.
With more interior and cargo space, large new infotainment screen, LED lighting, electronically-controlled suspension and stability control, the new BMW X3 should be a new beast to drive.
See used BMW X3 for sale.