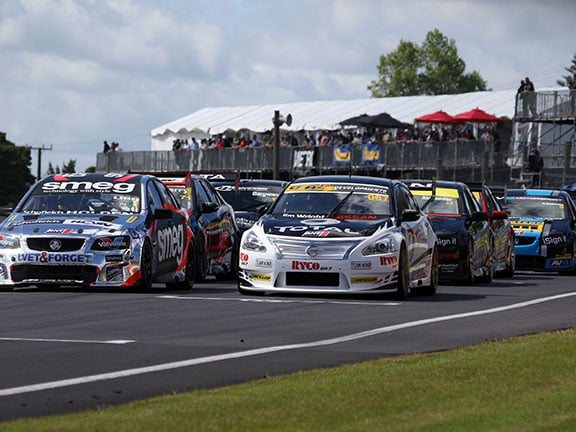 Evans and his Smeg Racing Holden claimed the round win at the opening round at Pukekohe in November while other challengers faltered. A number of Class One runners such as Jason Bargwanna, Sam Barry, Brock Cooley, and Nick Ross all had mechanical issues at Pukekohe, allowing Evans to capitalise and secure valuable points.
"That was a great way to start the championship," says Evans. "It was good to be pushed by Nick Ross, and Sam Barry was pushing me hard in that last race at Pukekohe. I feel they will get stronger as the season gets going."
"I think it's going to be an exciting season."
Sitting second in the championship is Tom Alexander who now pilots the ex Andre Heimgartner Holden Commodore, the Pukekohe based racer was pleased with his performance at round one but admits there is still speed to find.
"The first round at Pukekohe was a learning curve for myself and the whole team but we were happy with second overall and a solid haul of points to kick off the season. We came away knowing we had speed to find and have been working hard to sort this," says Alexander. "The action at the front was close at Pukekohe and I am in no doubt that it will be again at Taupo. Simon will be hard to beat winning all three races at Pukekohe. He has been racing in the V8's for a number of years but the whole team will do our best to make it happen. My goal from start was to be competitive, challenging at the front and always after the win."
"I am looking forward to Taupo and think the car will be very competitive at the front. I enjoy the twisty technical Taupo circuit and the twilight race on Saturday evening on a cooler track will allow for good engine performance and close racing battles."
Also looking to bounce back at Taupo will be Sam Barry aboard the Richards Team Motorsport Toyota Camry. The young driver from Waipukurau showed promising speed at Pukekohe, and is expected to do well at Taupo having tested at the circuit in the off-season. Barry's teammate Jason Bargwanna will be in familiar but different surroundings, the Richards Team converting the Ford Falcon he raced at Pukekohe into a Toyota Camry.
Liam McDonald of Invercargill took out the opening round in Class Two of the championship and leads from Steve Taylor and Brad Lathrope.
"Really great weekend at Pukekohe for us to start off the Championship with. We didn't have a flash day on Saturday but managed to claw it back on Sunday with two race wins," says MacDonald.
"I've never raced at Taupo, but am looking forward to heading there."
Chasing MacDonald will be title contenders Brad Lathrope, Jamie Conroy, Nick Farrier, Rob Wallace, Steve Taylor, Bronson Porter and newcomer Chelsea Herbert who secured her first race podium on debut at Pukekohe.