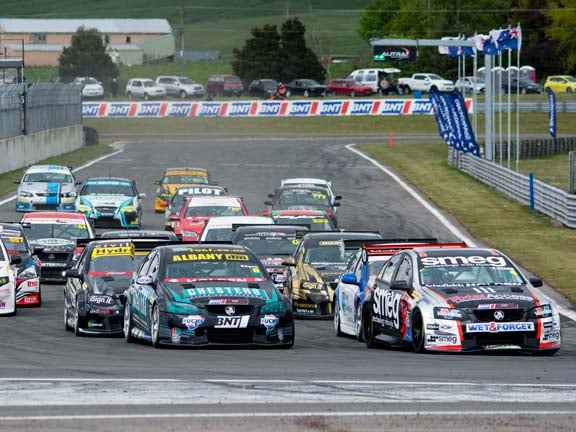 The BNT NZ Touring Car Championship was formed just over 12-months ago as an amalgamation of what was the NZV8 TLX and TL championships and the V8 SuperTourers. The NZV8 TLX cars and V8 SuperTourers (V8ST) becoming Class One and the older TL spec cars becoming Class Two in the new Touring Car Championship.
"The integration of V8ST and TLX cars into a single Class One grid has worked. No one said it was going to be easy and to be fair it is still work in progress with some positive results showing that the two different chassis types can compete together in one class," says Category Manager, Gary Lathrope, speaking on behalf of the Executive.
Parity was a talking point of Class One at the start of last season, and steps were made throughout the year to bring the on track performance of the cars closer together. All Class One cars ran on the same Dunlop tyres, and aerodynamic and performance changes were made to further close the performance gap.
During a meeting held last night, positive progress was made with BNT NZ Touring Cars Class One teams unanimously deciding that the class should move forward with methods of integrating the two chassis options to bring them closer together.
Team representatives agreed that there were a number of components on the SuperTourer Pace Innovations and TLX Mitchell Xtreme chassis that could now be used on either. Items such as the controlled brake packages from Brembo and PFC and some aero components like front splitters and rear wings, which are different on each chassis, will now be eligible to be used on either.
There was also discussion around engine power parity. It was stated by the category's Technical Adviser that there appears to be a relativity small variance in power between the V8ST Chevrolet LS7 and the TLX engines and that the way forward for the benefit of fair competition in the class is to have every engine mapped to an equal level. The simplest way to achieve this is by dyno testing every car that is entering the Championship. An engine power window would then be established and each car would then be tuned to fit within that window.
In the short term the simplest and most cost effective way forward is for Championship competitors to have electronic throttle bodies fitted for this season so that parity tunes can be readily achieved.
Electronic throttle bodies are standard equipment on the TLX engines and were also standard equipment on the LS7 engine, although a cable throttle was developed and approved for the V8ST cars at the start of last season. The benefits of using the electronic throttle permits tuning to within a performance 'box' for this season.
Longer term, the Category Executive believes that a new engine camshaft should be tested for use in LS7 engines. The goal being to lower the power and torque output to an agreed level that ideally becomes the new touring car benchmark tune.
A new camshaft would provide better mechanical component life and will close the gap between LS7 engines and others and would allow for the use of electronic or cable throttle. It was agreed that there is not enough time available prior to this season to complete this task. It therefore becomes the 2017/2018 season goal.
Transparency is also important this season to reduce complaints real or imagined regarding the power difference between the LS7 and other engines. As part of the transparency process all engine tune data can be made available to any team registered to race.
"Transparent monitoring and checking on race day will be made easier and will defuse the engine debate allowing competitors to focus on enjoying their racing with the category."
To add even more competiveness and close racing to the category it is the Category Executive's intention to introduce 'Success Ballast Weight' for this coming season. Exact details of this will be announced prior to the start of round one, but it will aim to mix up the battle at the front of the field by adding weight to the top placed cars prior to the next race.
This formula is widely used around the world in other categories such at the British Touring Car Championship with great success.
The BNT New Zealand Touring Cars class will continue to run on the Gull Force 10 high performance fuel with a 10% bioethanol blend. Which not only do the teams feel gives them a performance gain, but environmentally it is emitting 8% less carbon dioxide into the atmosphere – the same type of fuel that fans can buy at any Gull Station.
"The Category's Executive along with Motorsport NZ's conclusion is that the bringing together of V8ST and TLX chassis has been challenging for all of us. While this first attempt at harmonisation represents an important step forward there is more work to be done and improvements will follow."
'Invitational cars' which fit outside the Class One and Two criteria will be welcomed and encouraged to race with the championship at the sole discretion of the Category Executive to ensure these cars fit with in the spirit of the category.
"The Executive sees invitation cars in both Class One and Class Two as an important part of the category's growth and not just grid fillers. To show the category's commitment we are very pleased to announce that any team that enters as an invitation car this season will be eligible for points towards the prestigious new 'BNT NZ Touring Cars Invitation Cup' and there will also be a round winners cup presented to the invitation class highest points achiever."
And with even more great news for this season, BNT NZ Touring Cars will be giving away a $2000 tyre voucher at each round with all round entrants going into a lucky draw.
"The Executive of BNT NZ Touring Cars thanks all teams for their valued input. They ask that while it has been impossible to please everybody at this time, that owners positively support their category through this transitional stage and work towards a successful 2016/2017 season."
Category Coordinators have indicated that they have received positive interest from a number of new Class One and Two teams contemplating entering the 2016/17 Championship.
The BNT NZ Touring Cars will compete in a six round 2016/17 championship season starting at the Pukekohe V8 Supercar event November 4-6
Round 1: 4-6 November 2016 Pukekohe V8 Supercars Round 2: 10-11 December 2016 Taupo Round 3: 13-15 January 2017 Ruapuna Round 4: 21-22 January 2017 Teretonga Round 5: 11-12 February 2017 Manfeild NZGP Round 6: 11-12 March 2017 Hampton Downs