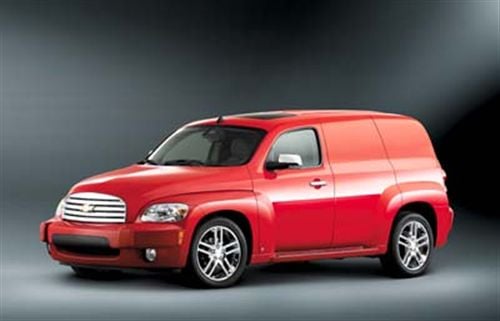 The new HHR variant is the HHR Panel which has windowless side panels and rear cargo doors in place of conventional rear doors, just like car-based sedan/delivery wagons sold in the US in the 1940s.
The HHR Panel's flat load floor provides more than 1614 litres of cargo space with an extra 170 litres in covered, underfloor storage.
"The HHR Panel is a model unlike anything else in the segment," says Chevrolet general manager Ed Peper.
"It's great for delivery companies and other small businesses, but we think auto-enthusiasts will love it too, as it gives them a large canvas on which to express their individuality."
Chevy plans to start building HHR Panels in the first quarter of 2007, and will offer it in LS and LT trim levels, with 2.2-litre and 2.4-litre engines. The 2.2 develops 111kW, and the 2.4 130kW.
"Business customers will see great value in the HHR Panel." says Peper. "There aren't
many vehicles designed for commercial use that provide 30mpg."
The side cargo doors open wide to allow cargo access from both sides of the vehicle,
as well as from the rear liftgate. The cargo doors don't have external handles and are opened using a dashboard release button.
LT models ride on 17-inch wheels and have leather upholstery. Dual-stage front airbags are standard, and side curtain airbags are optional.