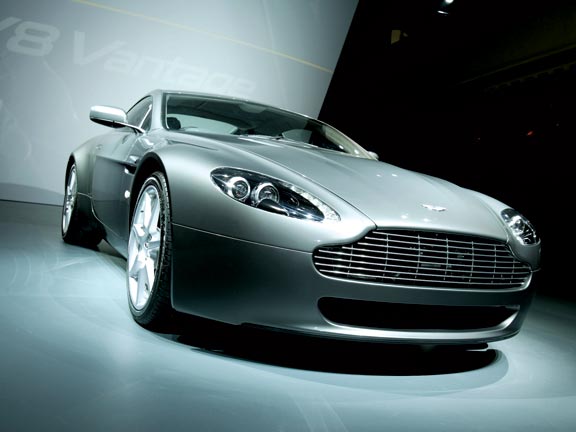 When there's deliberation on the specialist Aston Martin marque, my mind immediately turns to engines.
You might think that's because the classic low volume British car maker has offered some stunning six-, eight- and 12-cylinder power plants over the years, many of them producing intoxicating noises.
But no, there's another reason. Fourteen years ago, while visiting the old Aston manufacturing plant in the small town of Newport Pagnell, I was amazed to see workers trundling the costly Aston Martin engines across a public road, pausing, of course, for passing traffic.
This highway that separated the two factories is Tickford Street, so you can work out how Ford labelled those special high performance Falcons and Capris. There was even a Tickford Austin Metro.
Here were two blokes, one pulling and the other pushing a small handcart with rusty wheels. A strap held the engine in place while the mechanics wheeled the whole thing between one old building and the next.
Fortunately it wasn't the busiest road in Britain, and though hardly a shining example of automation, the handcart, in a quaint way, perfectly summed up Aston Martin.
Having an Aston sitting in your drive for a few days – as I did recently – certainly generates plenty of attention and conversation.
Everyone wants to talk about this beautiful beast, even people not interested in cars.
It seems bizarre to talk about an "entry-level" Aston, but that's what the V8 Vantage is.
At $265,500, it lists 20 grand less than the roadster version, and is $94,000 cheaper than the Vanquish which has four extra cylinders and considerably more power.
Aston's decidedly chequered history has been one of survival over more than 90 years of struggling to make money.
During more recent times, of course, Ford has owned the company. I visited Aston Martin in 1994, the year Ford took control to provide what seemed to be the best-ever prospects for the make.
Then in March 2007, two Kuwaiti investment companies bought the company in a deal led by David Richards of Prodrive fame, although Ford kept a share.
When the company was formed in 1913, the name was created from the Aston Clinton hillclimb and one of the founders, Lionel Martin.
In the dark days of the 1980s, world sales of Astons dropped to three cars a week, and by 1994 a total of 12,000 had been built in just over 80 years. In 1995 a record 700 Astons were sold and production has risen to 3000 a year.
Since the 1990s, Aston Martins have become much more plentiful, with total accumulated production reaching 20,000 by the turn of the century and 30,000 by 2006.
The old Newport Pagnell factories made the last Astons in July 2007 after producing 13,000 cars since 1955 when David Brown acquired the Tickford Coachbuilding Company.
However, the Tickford Street operation remained as a restoration and service department for Aston, an important task when you realise three-quarters of all cars made by the company are still in use.
During my visit to the factory I drove a DB7 and the outrageous and unwieldy Vantage V8, and went to the Bloxham assembly plant near Banbury.
Today, Astons are built in a new factory at Gaydon in Warwickshire.
The elderly Tickford Street premises were a real time warp. The restoration centre is on a site once occupied by Salmon and Sons Ltd, coachmakers to the nobility almost 200 years ago.
You can easily imagine James Bond popping into the Tickford centre to collect his car.
It was fascinating to see how many parts Aston was making for its vehicles, or realise that 1200 man-hours and 12 weeks were needed to produce a car.
I spoke to one craftsman who had been beating out panels for Astons since 1950. An aluminium bonnet formed from three pieces needed 42 hours of hand crafting on wooden beating blocks fashioned before the first motor car was made. Old seems an understatement.
Each engine is carefully assembled by an operator whose name is engraved on a small brass plate secured on the powerplant.
Eleven Connolly hides are allocated for each car.
The Vantage name dates back to the DBS in 1967, and in 1972 it became a distinct Aston model. The last Aston Martin to have wire wheels was a Vantage and, before the arrival of the 1993 DB7, it was the last Aston to have a straight six engine.
If you happen to be in the market for a Vantage, rival choices include the Porsche 911 Carrera S, BMW M6 and Maserati GranSport.
Despite its considerable presence, the Vantage is actually shorter than a Porsche 911.
The German car is also faster, stops in a shorter distance, is more responsive, cheaper and probably more reliable.
So why on earth choose the Aston? Simply, because it's an Aston.
Not only will there be fewer of them (not really a good enough reason), but people will like you better, and you will even feel better.
This car is devastatingly beautiful – I could find no one who thought otherwise. Even diehard Porsche enthusiasts, who are the most difficult to persuade, are captivated.
From any angle, this Aston Martin is a thing of beauty, real enough to be considered a work of art.
Yet the car lacks true quality, witnessed on the sample car by poor fitting trim around the dashboard, and the bulky Ford Mondeo-style keys simply don't smack of a quarter million dollar machine.
The interior is tight, the ride firm, visibility to the side is poor, and the claustrophobic atmosphere heightens the difficulties judging the front and rear ends of the car.
Although the engine is front mounted, it's located well back in the chassis, and a carbon fibre propshaft surrounded by a cast aluminium torque tube transmits the power to the rear wheels.
The six-speed manual gearbox is heavy enough to faze pretenders who struggle to get by without an automatic.
Brakes and steering also feel heavy, reminding me of the leggy 1994 Vantage that felt rather truck-like to drive.   
 
And then there's that engine. Sadly, this redeeming feature isn't made in those classic old England factories but in Cologne, alongside the V12 motor.
Not that you will care as you open the throttle and revel in the sensation. The exhaust burble is bound to bring out the boy-racer in the most subdued of motorists. This glorious growl flicks to a crackle as the motor comes on song, guaranteeing a smile, turning a depressing day into something rather special.
The 4.3-litre, 242 horsepower – it seems a shame to talk kilowatts – alloy V8 is based on the 4.2-litre Jaguar engine, but has a unique bore and stroke, and special pistons, conrods and crankshaft.
This will propel you to 100kph in around five seconds, to a top speed of 281kph, and to a quoted combined fuel figure of 17.2 litres/100km (16.4mpg), improving to 12.5 litres/100km (22.6mpg) on the open road.
Ignore, if you can, the special construction of the car; the body made from aluminium, steel, composite and magnesium, and the forged aluminium double wishbone suspension.
Though arguably not as bullet-proof as the German rivals, the Vantage is an individual, charismatic car that defies rationality.
It's something different in a world of sameness and for that we should be thankful.