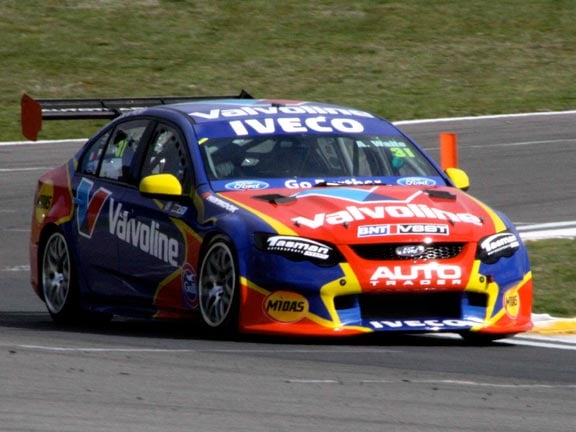 With driver Andrew Waite making his long awaited sprint series debut for the team, the Valvoline Ford struck an intermittent gearbox shift cut issue during the early practice sessions on Saturday forcing the team to analyse and fix issue before qualifying.
However during the first qualifying session, it became apparent that the earlier issue had damaged the gearbox of the Valvoline Ford, with the car spearing off the track at a fast section of the Taupo circuit and making light contact with the tyre barrier.
"That was pretty scary, I was just a passenger. I was doing roughly 200km/hr when it just hooked right suddenly. I was just thankful that it didn't cause any further damage," said Waite after the incident.
"That shift cut issue really put us behind the eight ball for the rest of the weekend. It was a shame, because the car is actually quite fast and we showed that in the first practice session."
The team replaced the gearbox over night with a new unit.
"I think one positive to take from the weekend is that when we didn't have any issues we had good pace managing to match that of the leaders. To salvage a 12th placing in the third and final race was some consolation to an otherwise hard weekend."
TMG Team Principal Steve Horne says it was an uncharacteristic performance for his team.
"There were a couple of things that were out of our control, and it looks like the same issue with the shift cut was suffered by a few other teams as well. We made a couple of errors in rectifying the issue, which in hindsight wasn't the correct approach. We'll go away and analyse what went wrong and ensure it won't happen again," says Horne.
"Under the circumstances, I feel Andrew did very well. He clearly has the ability and speed to run at the front, we just have to ensure we give him a package to do that."
Waite will now look ahead to the first endurance race of the season where he will again partner Daniel Gaunt.
"Both Daniel and I are really looking forward to the enduro's. We did well last year getting a podium and a win. We're faster now, so we will be looking to build on that and get some solid results."
The Tasman Motorsports Group Valvoline Ford is supported by IVECO Trucks, Autotrader.co.nz, Midas, BOC and Colin Waite Panel Beaters.  Round 5 of the 2013 BNT V8 SuperTourers Championship will be held at Hampton Downs, September 28-29