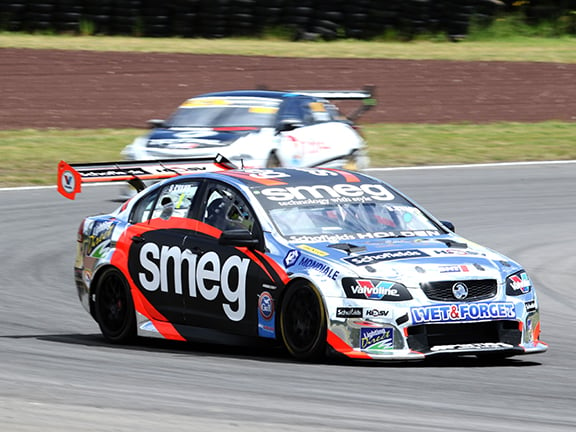 Beating Nick Ross to the line in today's opening race, Evans was challenged in the final race of the weekend by Australia's Jason Bargwanna who was looking to strike back after mechanical problems with his Toyota Camry plagued much of his weekend.
A slick pitstop by Evans' Smeg Racing team propelled the championship leader up the order and managed to hold off a hard charging Bargwanna. The pitstop essentially vaulting him up the order from fifth into first place after Bargwanna's team encountered a problem while changing a wheel.
"Big thanks to my guys on the team, they did an awesome job in that pit stop and got me into the lead," said Evans. "The conditions were very changeable and everyone was pitting at different stages. I really didn't know where we were going to come out once everyone had done their stop."
"Bargs was chasing me pretty hard at the end there, I had to manage the car in the final few laps as it developed an issue with the gearbox and cost me some time. I think if it had been another lap or two he would have got me."
"Overall, it's a great start to the championship, two round wins in a row. Really looking forward to getting down to Ruapuna and Teretonga in January."
In the final race, Bargwanna and Evans were chased to the line by series newcomer Callum Quin.
Class Two was won by Liam MacDonald of Invercargill who took his class victory thanks to two wins and a third placing across the weekend's three races. MacDonald spent most of the weekend battling fellow Southlander Jamie Conroy who took his first win of the championship in race two on Sunday morning. But for MacDonald, it was an opportunity to extend his championship lead, having also won at Pukekohe last month.
"It's my first time here at Taupo, I wasn't expecting to be on the pace straight away, but am really pleased with how the weekend went," said MacDonald. "I had a great battle with Jamie Conroy throughout the weekend and it was some of the best racing I've been involved with. Jamie raced really well, and I can't wait until we head down to our home tracks or Ruapuna and Teretonga in January."
"To win the championship is my goal now. If I can just keep being consistent and get podium finishes and bank points then a championship win is achievable."
The championship now heads to Ruapuna near Christchurch for round three, January 14-15.