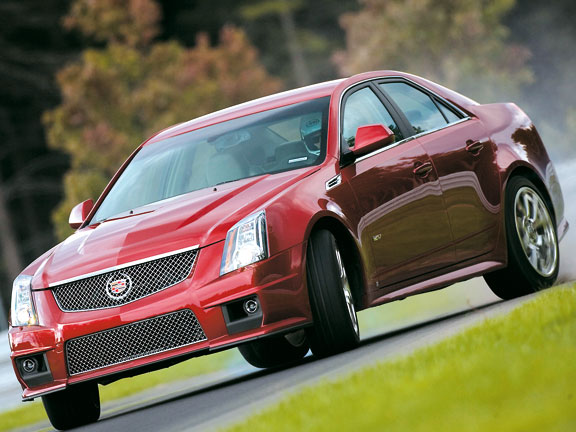 Cadillac says it gave the CTS-V's design team the "realistic objective" of making the car "the world's fastest production sedan".
And in final pre-production testing, a 2009 CTS-V completed a lap of Germany's legendary Nordschleife race circuit in seven minutes 59.32 seconds.
The company says that time appears to be the fastest ever publicly documented for a production sedan running on road tyres.
GM Performance Division executive and accomplished racing driver, John Heinricy, piloted the CTS-V of its sub-eight minute lap.
Cadillac says the car was equipped exactly as planned for consumer production.
The eight-minute mark has long been recognised as a major Nurburgring milestone, reserved for race cars and the fastest exotic sports cars.
Cadillac says that though there's no single official repository for Nurburgring data from private test sessions, "numerous reputable websites and publications report lap times from race teams, automakers and independent sources".
Cadillac says the CTS-V will accelerate from 0-96kph in 3.9 seconds, and covers the quarter-mile in 12 seconds at 118mph.
The car's limited-slip differential is made of cast iron for extreme strength, and its limited-slip tuning enables "excellent high-speed stability along with comfortable low-speed manoeuvrability".
The prop shaft is heavy-duty and wheel hub bearings are stiffened and bolstered.
Axle half-shafts are asymmetrical to ensure smooth performance.
"CTS-V represents the full extension of our design, technology and performance capabilities," says Cadillac general manager, Jim Taylor.
"The V-Series takes the award-winning CTS sport sedan and elevates it to a position within the club of the world's most exclusive and capable cars."
The writers at feisty motoring magazine, Car and Driver put it more bluntly.
In a road test headed: "V for Vendetta", C&D said that with the CTS-V, Cadillac "makes the jump from knuckle-dragger to sophisticate in one leap".