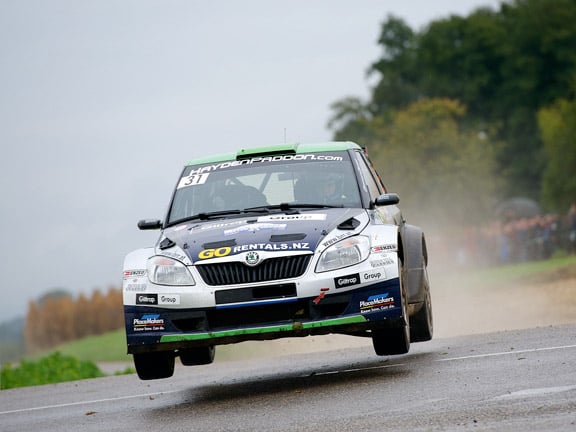 "Unfortunately, the smallest of driving errors has put paid to our goal of cruising through Sunday's six stages and also to our championship hopes," said a bitterly disappointed Paddon.
"We were taking it really easy all day in the tricky muddy conditions and taking absolutely no risks."
By the end of the morning's three stages, Paddon had a lead of nearly two minutes over Irishman Craig Breen who had moved into second. The afternoon's first repeated stage, special stage 20, was to bring a sad end to Paddon's rally.
"It was the smallest of mistakes, running slightly wide on a muddy, tight right hand corner – a first gear corner – and the rear wheel slightly touched the grass. This then sucked the car into the grass-filled ditch where we were stuck. While we had two wheels of the car still on the road, we just could not get the car out."
Officially out of the rally, Paddon watched Breen take the SWRC category win in France. Paddon's SWRC championship hopes have ended with no chance of beating Breen, P-G Andersson or Yazeed Al Rajhi who are now in a three-way fight for the championship title in Spain in November.
Breen said: "It's been an up and down rally and we're extremely lucky with what happened to Hayden. He was so unlucky because it was so easy to go off where he did."
Paddon concludes: "I'm a little lost for words right now, in a year that has never really got going like we would have liked. A huge thanks for all the support that we have had and to our BRR team who have all done a great job. This is the first mistake that I have made like this in the past three years – and it come at the completely wrong time. As always there are lessons to be learned and I hope that we will come back faster and stronger."
Dozens of comments on Paddon's Facebook page highlight the support and belief that rally fans have in Paddon, who last year became the first New Zealander to win a world rally championship.
Paddon's New Zealand World Rally Team is supported by PlaceMakers, Giltrap Group, Skoda, Z Energy, ENZED, ATEED, GO Rentals, Cameron Sea and Airfreight, Granger Design, Raiseys, New Balance, Pope Print, Racetech, Chicane Racewear, Endless Brake Pads, 1 Group web design, Brita Safety, Rally Tours, MAK-Corp, EPS International, Saddle Hill Quarries, Monit Rally Computers, Bluebridge Ferries, Stadium Finance, and Ewing Engineering Contractors.
Hayden Paddon RallySport shares news, images and results via the team's website www.haydenpaddon.com where fans can also subscribe for regular email updates and find links to the team's Twitter and Facebook pages.