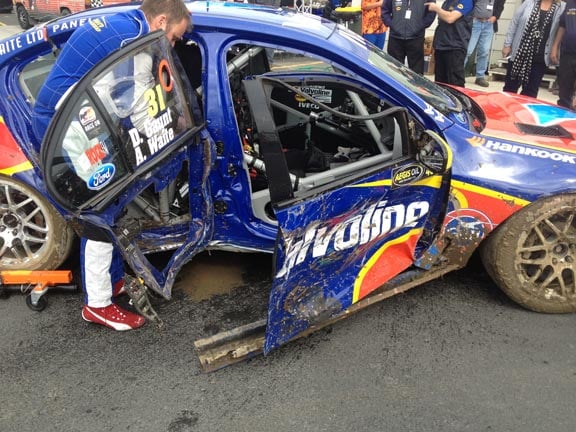 Round one of the V8 SuperTourer Enduro series was held at Hampton Downs raceway a couple of weeks ago. The Tasman Motorsports Group team were really looking forward to it after the performance speed we showed last season in the Enduro's. Especially after winning the last race of the year.
The weekend was all going to plan. We were off third for the final race going off aggregate points after being third and fifth place in the first two races. After a team decision I was selected to start the race. I got away to a clean start, we knew it was a long race so that was one thing that was made clear to me was that I had to keep the car away from any potential damage.
After the first 3/4 of a lap I had done exactly what I was told until a battle right in front of me for the lead went pear shaped. Jono Webb got pushed wide and as he kept his foot hard into the gas it spat him sideways into a spin, I swerved hard left to avoid him but because he was still on the gas and speared straight into the side of me ending our race then and there.
The crash to me was a real testament to the cars strength and safety. The reason I say this was that it was a hard hit, right in the drivers' door and I managed to walk away without a single scratch or bruise. My biggest issue was a muddy race suit….
Once the car made it back to the workshop on the Monday morning it was a mad rush to get the car stripped back to assess the damage. Unfortunately because of the heavy impact the side intrusion roll cage bars had bent as well as the chassis rail. Once we knew the extent of the damage we could report back to the Pace Innovation team in Australia (who built the car) to let them know what needed to be repaired.
That Thursday the Pace team flew in from Australia to do the repairs. It is a huge credit to them for being so speedy and knowing exactly what needed to be done. Within 24 hours their job was complete and they were on the next flight back the Australia.
After that the chassis side of things was done, it was back to our team to complete the assembly and painting. Like always Mark Pilcher, our team manager, and a couple of other TMG team members have done a stellar job putting the car back together making the car look like brand new again.
As team boss Steve Horne said to me, "Abe is back smiling again" and I am sure Abe, myself and the rest of the team are really looking forward to getting back out there this weekend to seal the round win.
See you at the track
Andrew