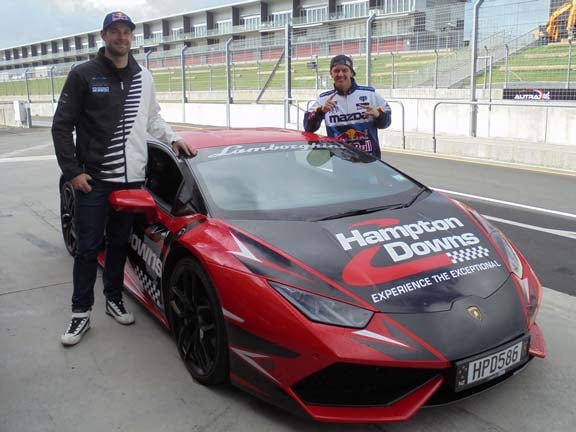 The new event at the Waikato circuit is part of the Australian GT Championship and Whiddett will team up with Australian amateur, Klark Quinn in the Pro-Am format.
Realising how big a challenge the shift to GT racing would be, Whiddett sought some advice from good friend and Supercar sensation Shane Van Gisbergen and caught up with him recently at Hampton Downs to get a few laps under his belt, without smoking up the back tyres!
"I couldn't ask for anyone better to teach me the ins and outs of circuit racing," says Whiddett. "Me and Shane both have hectic schedules so as soon as Quinny (Tony Quinn) gave me the opportunity to drive in the GTs I was straight on the phone to Shane. It turned out that we were both here in NZ so it was awesome to get out to the track and get his help while also getting a few laps under my belt in the Hampton Downs Lambo."
Whiddett quickly realised how different it will be for him behind the wheel of a GT3 in an endurance race, but is relishing the opportunity.
"I'm used to pushing it, going all out but have quickly realised it's all about technique and consistency," Says Whiddett. "Slow down to go faster, was the best bit of advice from SVG today. Slower into the corners and faster out is the key."
While Van Gisbergen admitted there is still a bit of work to, he says Whiddett showed he has what it takes and was quickly posting good times. "I think he's definitely up to it and will be fully on the job come October."
Unlike drifting, where a run can last as little as 30 seconds, Whiddett will be racing for three hours in the 101 which will be a test of his strength, stamina and mental focus.
"It's a new challenge for me and one I'm really looking forward to," says Whiddett.
The Hampton Downs 101 will feature some of the finest GT cars in the world including Porsches, Ferraris, Lamborghinis and McLarens. Two weeks later, the travelling roadshow will head to Highlands Motorsport Park in Cromwell for the Highlands 101 on November 13.
The Highlands 101 was first held in 2013. It was the first endurance style event in New Zealand to feature cars and drivers from the Australian GT Championship. The calibre of the cars has tempted a number of leading V8 Supercar drivers, including Shane van Gisbergen, Fabian Coulthard and Craig Lowndes to drive in the event.
Klark Quinn, the son of Hampton Downs and Highlands owner Tony Quinn, teamed up with van Gisbergen to win last year's Highlands 101 and he's excited about racing with 'Mad Mike' in the Hampton Downs 101.
"Mike has had plenty of experience going fast and his car control is second to none so I think the biggest challenge will be getting the car setup properly to suit him," says Quinn. "Spending time in the driver's seat is vital and his practice time in the McLaren will be limited but it will be fascinating to see how he transitions from flying sideways in his drift car to driving one of the fastest production cars in the world."