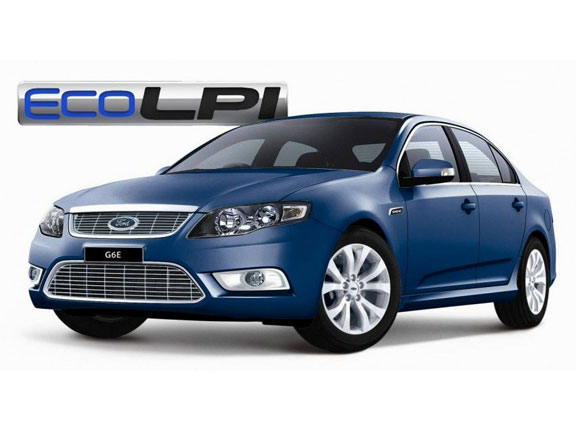 The new EcoLPi in-line six-cylinder engine is a liquid phase injection, dedicated LPG powerplant that Ford says will deliver impressive fuel efficiency and reduced CO2 emissions, as well as no compromise engine performance compared to Falcon's existing petrol I6 engine.
"The introduction of EcoLPi is another part of what is a big year of Ford New Zealand," said Chris Masterson, Marketing Manager, Ford New Zealand. "Ford New Zealand has close to 85% of our vehicle line up either coming in all-new or being significantly updated over the next 12 months."
The EcoLPi also represents another key pillar in Ford's plan to bring a range of sustainability initiatives to market, following the launch of first regionally-produced diesel vehicle with the new 2011 Territory, as well as the introduction of Ford's patented EcoBoost engine technology on the Mondeo.
"Improvements in fuel economy, CO2 emissions and cost of ownership have been achieved through a combination of engineering developments, the introduction of a new range of small and light cars, and the expanded availability of alternative fuel vehicles such as diesel and LPG."
The cornerstone of the EcoLPi engine is the new injection system, which follows a similar fuel induction configuration to the petrol I6 engine courtesy of a new injector-based, high-pressure fuel rail that delivers liquid-state LPG fuel directly into the intake port.
Whereas traditional vapour LPG systems turn liquefied gas into vapour form before feeding it into the engine via a venturi in the throttle body, the liquid phase injection system takes the gas in liquid state all the way to the injectors.
Injecting the LPG fuel in a liquid state directly into the intake port in a more precise and controlled manner generates improved engine volumetric efficiency, which delivers better fuel economy, reduced CO2 emissions and greater engine performance.
As the LPG fuel is no longer under pressure once it is released from the injector, its sudden expansion and rapid cooling of the incoming air charge creates the ideal conditions for maximum fuel burning efficiency.
This enables the engine to produce more power and torque, economically, and with fewer emissions.
The new EcoLPi engine develops 198kW of power at 5000rpm and 409Nm of torque at 3250rpm, which is identical to the petrol I6 engine when operating on high octane 95 RON unleaded fuel (versus regular 91 RON unleaded).
For EcoLPi that represents a 27% improvement in maximum power and a 10% improvement in peak torque compared to the previous generation E-Gas LPG engine, which produced 156kW and 371Nm.
Despite the significant increases in power and torque, fuel efficiency has also improved, along with a corresponding reduction in CO2 emissions.
Official ADR 81/02 fuel consumption certification testing is yet to be completed, so final fuel economy data will be confirmed closer to EcoLPi vehicles going on sale mid-year.
However, preliminary testing on a Falcon EcoLPi sedan points towards an overall fuel efficiency and CO2 emissions improvement potential of 12 to15% for liquid phase injection technology, when compared to the previous E-Gas venturi-style vapour system.
The new EcoLPi powertrain will be available on the Falcon sedan and feature distinctive "EcoLPi" badging. The EcoLPi will be available in New Zealand in the Falcon XT variant.