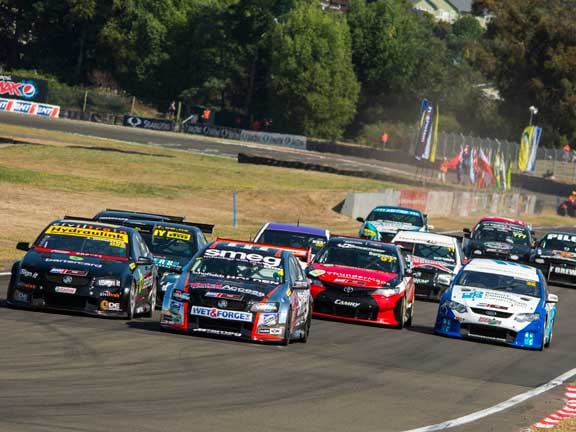 Held in hot and dry conditions and driving his class one Smeg Holden, Evans managed to prevail from a hard charging Andre Heimgartner who won the feature race on Sunday afternoon. Evans had already claimed victory in the first two races of the weekend with a second placing in Sunday's final race clinching him the round win.
"It was really nice to come back and get the round win here at Manfeild. Andre won both rounds at Ruapuna and Teretonga; he's been driving really well. Big credit to my team for giving me a fast car this weekend," says Evans.
"We rolled out of the truck on Friday and actually struggled a little bit. I'm pleased we managed to turn it around and get two wins."
The pace at the front between Heimgartner and Evans was close with Evans saying it was a matter of minimizing the mistakes.
"It was very close, he would make a mistake, I'd make a mistake, it was about keeping them to a minimum and that's what it came down to. In the last race I made a mistake and he got past for the win."
With one round to go, Evans may have now won the championship. Jason Bargwanna who was holding second place in the championship slowed and stopped just before the finish line with one lap to go, and was then pushed across the line by the car of fellow competitor Nick Ross.
"We are still waiting to hear if we have won the championship this weekend. Bargwanna didn't cross the line under his own power, but if we don't tie it up this weekend, we'll just go to Pukekohe and tie it up there."
In class two, the weekend was won by championship leader, Brock Cooley of Wellington.
"I haven't had the fastest car all weekend, but the Speedy Signs Ford team turned it around and gave me a car with some pace for the last race. Really happy to get another round win," says Cooley.
"It was really hot out there, well over 50-degrees in the car, I don't think I have raced in such hot conditions before, it was hard work."
The BNT NZ Touring Cars will race at Pukekohe for the seventh and final round of the championship, April 16-17.