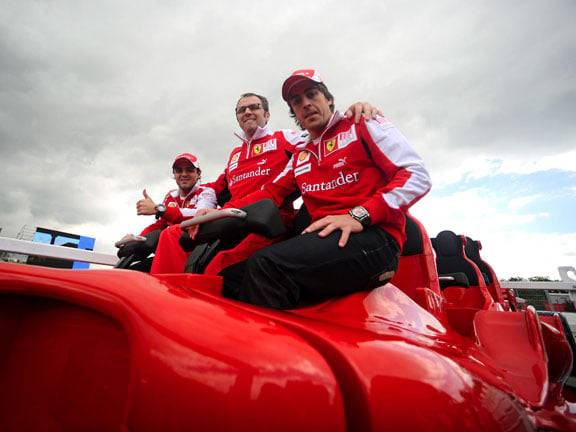 Ferrari World Abu Dhabi has announced that it will open its doors to the public on 28 October, 2010, three weeks ahead of the Abu Dhabi Grand Prix.
To celebrate the opening date announcement, Ferrari World Abu Dhabi teamed up with F1 drivers Fernando Alonso And Felipe Massa to unveil one of its highlights… the world's fastest rollercoaster. 
Officially named "Formula Rossa", this ride will reach speeds of up to 240kph. It races from 0-100kph in just 2 seconds, designed to replicate the accelerating force of Ferrari's Formula One cars.
It is powered by an 18,000hp winch and and its highest point will reach a height of 52 metres. The sharpest corners are 70-degree turns.
Ferrari World Abu Dhabi will have over 20 rides and attractions showcasing the iconic Ferrari brand, including a Ferrari F430 rollercoaster which races two cars side by side, and a flume ride journey through the heart of a Ferrari 599 engine.
Ferrari World Abu Dhabi is located on Yas Island, a 25km² entertainment and recreation destination and venue for the first Formula 1 Etihad Airways Abu Dhabi Grand Prix.