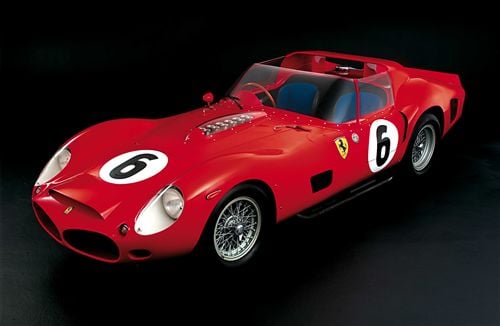 The 330 is the only 4.0-litre Testa Rossa built, and the last Testa Rossa sports racer made by Ferrari. It's also the last front-engined car to take overall victory at Le Mans.
The Testa Rossa's estimated price at auction is between $US8 million and $US10 million. It was the car in which Gendebien and Hill scored their third Le Mans win in a row. All
were in front-engined Testa Rossas.
The 1961 victory was scored in a car that looked essentially similar to the car being auctioned. It had the same shark nose grille that Ferrari used on its works Formula 1 and sports racing cars that year. It also had a high-backed body with chopped off Kamm-style tail, and the high windscreen required by FIA rules.
As well as winning Le Mans, the duo won the 1961 Sebring 12 hour race in the same 3.0-litre Testa Rossa.
The Rodriguez brothers, Pedro and Ricardo, raced a similarly-bodied Testa Rossa in the 1961 Le Mans.
For 1962 and the new prototype class, Ferrari fitted a 4.0-litre V12, and the racing Testa Rossa had a lower, sleeker windscreen.
The Testa Rossa is one of several Ferrari competition cars being offered by Canadian firm RM Auctions.
The May 20 auction, titled Leggenda e Passione, will return the Ferraris to the factory for the first time in years. It's the first European sale by one of North America's leading classic car auction houses.
The one-day auction will also highlight more than 100 lots of important racing memorabilia from Ferrari's own archives.
Canadian-based RM auctions has established operations in Europe with offices in New Bond Street, London.
Update: Ferrari 330 Testa Rossa Auction in Maranello
The auction in Maranello saw remarkable sales, with the 1962 Ferrari 330 TRI/LM Testa Rossa Spyder leading at a breathtaking $9,257,526, marking almost a 50% appreciation since its previous sale. This trend signifies a promising direction for top-tier vehicles. Another highlight was the 1953 340/375 MM Berlinetta Competizione, which fetched $5,703,910. Also making waves were Felipe Massa's 2006 Ferrari and ex-Michael Schumacher's 1997 F1 car, realizing $2,222,713 and $1,037,305 respectively. However, the 1987 Ferrari F40 Prototipo didn't find a buyer at $619,505.