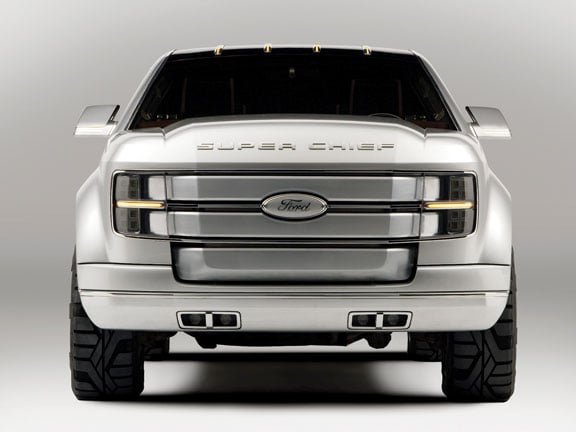 Americans' love affair with the full-sized ute is on hold – at least for the moment, as fuel prices continue to climb.
And increasingly, they're demanding smaller, more fuel-efficient vehicles – a shifting demand that may see most of the wide range of big, V8-powered pick-ups and SUVs vanish from new vehicle showrooms.
With American consumers forking out well over $US4 for a gallon of petrol – there are 4.5 litres to a gallon, though we use the Imperial measure – sales of full-sized utes (pick-up trucks to Americans) have tumbled. As a consequence, Ford has delayed the introduction of its F-150 pick-up, America's perennial best-selling vehicle, cars included. It now won't start building the 2009 F-150 until August, and has ramped up production of smaller cars. General Motors is painting a similarly gloomy picture – if you're a fan of the traditional US big truck, that is.
GM president and CEO Rick Wagoner says the General will close several factories where big pick-ups and SUVs are built and switch resources to making more small cars and crossover vehicles. Wagoner says that though the moves are being made as an urgent response to falling sales of large vehicles, GM believes there has been a fundamental and enduring shift in Americans' vehicle-buying – away from high fuel users to economical vehicles.
The US has been there before. In the wake of the 1970s fuel shocks, cars like the Vauxhall Chevette found their way on to the US market. When the oil shortages eased, big cars and big engines came back. But US industry sources are suggesting that this time the shift looks like being permanent.And where will that leave the full-sized pick-up like the Ford F-series and the Chevy Silverado?
As they move away from truck and large SUV production, Ford and GM are re-focusing on smaller vehicles; in one factory, Ford will switch production from large utes to the Fiesta small hatchback which goes on sale in America in 2010. General Motors is cutting truck and increasing small car production and accelerating the introduction of the Volt extended-range electric car.
As the US market shifts, the big question is: can the full-sized pick-up survive?