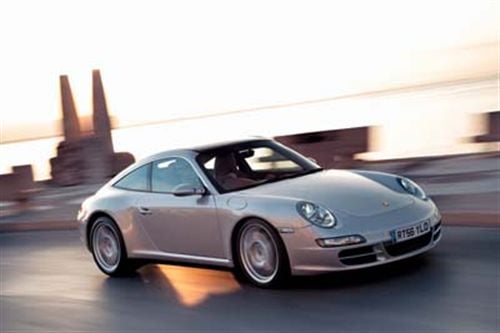 Both have glass roofs and opening hatch-style rear windows. A polished, anodised aluminium trim strip which runs the length of the roof frame emphasises the coupe profile.
The glass roof ensures a light, airy interior. Two electric motors can open it by up to half a metre in seven seconds, no matter what the road speed.
The maximum roof opening area is 0.45 square metres. The roof panel is constructed of two-ply specially tinted glass, which is 1.9kg lighter than that used in the previous 996 Targa.
Wind noise is kept low, even at high speed, by a newly-developed sealing system. A wind deflector minimises turbulence inside the vehicle, allowing open-roofed driving even when the outside temperature is low. With the roof closed, a semi-translucent black cloth roller sunblind provides shade in hot weather. Both the glass roof and roller blind are operated by a rocker switch on the central console next to the handbrake lever.
The upward-tilting glass tailgate is supported by gas struts. The hatch makes loading the luggage area easier.
There's a maximum luggage capacity of 230 litres with the rear seats folded. The tailgate can be released either by a switch on the driver's door sill or by a button on the key fob.
The new Targa uses the same bodyshell as the 911 Carrera 4 and 4S coupe and cabriolet models, and is 44mm wider at the rear than two-wheel drive 911s.
The Targa's inner roof structure includes 30mm tubes made of ultra-strong steel to reinforce the A-pillars. Welded directly on to other tubes extending along the edge of the roof and resting on the body of the car via the B-pillars and at the bottom of the C-pillars, the special tubes ensure very good protection of the occupants even in a rollover. Targas have six airbags for maximum safety.