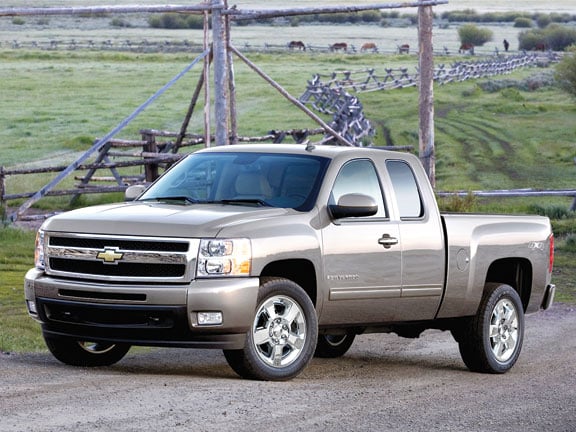 Announcing plans to cut truck production, reassess the future of the Hummer brand and switch the focus to making smaller vehicles, Wagoner indicated that the shift away from big pick-ups may be permanent.
"These moves are all in response to the rapid rise in oil prices and the resulting changes in the US, changes that we believe are more structural than cyclical."
Wagoner says GM will end production at four plants that build pick-ups, SUVs and medium-duty trucks.
Chevrolet will start a new global compact car programme (current global GM small cars sold as Chevrolets – and here as Holdens – are mildly re-engineered Korean Daewoos), and will develop a next generation Chevy Aveo, and a high efficiency engine module for the US market.
GM will also provide funding to build the Chevy Volt extended-range electric vehicle. It will add third shifts to factories which build hot-selling compact Chevy and Pontiac cars.
Wagoner says the moves aggressively respond to America's growing demand for fuel-efficient vehicles. "Higher gasoline prices are changing consumer behaviour, and they're significantly affecting the US auto industry sales mix."
In North America, new GM cars and crossovers, including the Cadillac CTS, Chevy Malibu, Pontiac Vibe and Buick Enclave, have been selling strongly, and GM intends to build on that: 18 of the next 19 new GM products for the US will be cars or crossovers.
The GM board has approved a next-generation compact Chevy for the US and global markets. "This car will represent the first US application of our global architecture strategy," says Wagoner. "This strategy will pay major dividends as we [use] our extensive car product development capability in Europe, Korea and other locations to accelerate the shift in our US product portfolio."
The next-generation compact will be pure Chevrolet in design, and will use GM's 1.4-litre turbocharged global four-cylinder engine.  With this engine and a manual transmission, the new Chevy is expected to achieve significant fuel savings.
GM board approval for the Volt electric vehicle includes funding for production development and tooling. GM says that the technology for the Volt, including its lithium-ion batteries, will be ready for volume sale as a 2010 model. "The Chevy Volt is a go," says Wagoner. "We believe this is the biggest step yet in our industry's move away from our historic, virtually complete reliance on petroleum to power vehicles.
"We intend to show a production version of the Chevy Volt publicly in the very near future, and we remain focused on our target of getting the Volt into Chevrolet showrooms by the end of 2010."
GM is increasing small and mid-sized car production and cutting back on pick-ups and truck-based SUVs. It's adding third shifts in September to factories which build crossovers and compact cars. Wagoner says falling pick-up and large SUV sales "mean that, over time, GM will cease production at four truck plants."
Oshawa Truck Assembly in Canada, which builds the Chevy Silverado and GMC Sierra, will probably cease production in 2009. Moraine, Ohio, which builds the Chevy TrailBlazer, GMC Envoy and Saab 9-7x, will end production at the end of the 2010 model run, or sooner, if sales continue to fall. The factory at Janesville, Wisconsin, will cease production of medium-duty trucks by the end of 2009, and of the Tahoe, Suburban and Yukon in 2010. Chevrolet Kodiak medium-duty truck production will also end in Toluca, Mexico, by the end of this year. Wagoner says these are difficult actions, "which are made necessary by long-term changes in consumer demand for trucks and SUVs".
GM is also undertaking "a strategic review of the Hummer brand to determine its fit within the GM portfolio." Wagoner says GM is considering all options, from a complete revamp of the product line-up to a partial or complete sale of the Hummer brand.