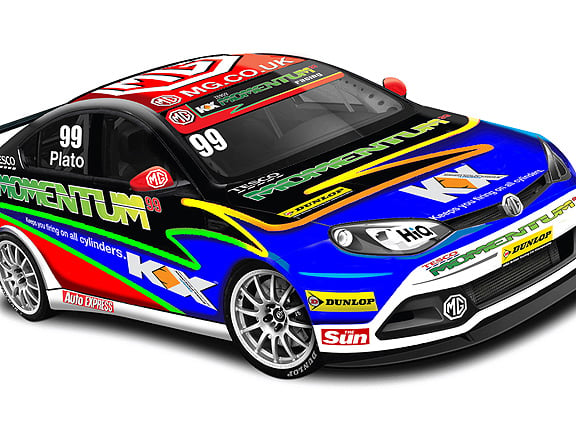 MG Motor UK has committed to building its new BTCC car – the MG6 GT model – to the Next Generation Touring Car regulations. These are leading to a greater number of bigger, faster, turbocharged machines on the BTCC grid for fans and media to savour.
Double Champion Jason Plato and emerging talent Andy Neate will drive for MG's team which, with primary sponsorship from Tesco Fuels' Momentum 99 brand and energy drink KX, will be called MG KX Momentum Racing. Triple Eight Race Engineering, one of the most successful constructors in BTCC history, will build and prepare the cars for what will be MG's first foray as an official entry in the championship since 2003.
Gow, who made the BTCC a household name in the Nineties and who has led it through another boom period recently – it currently enjoys some 120 hours of coverage per season on ITV – commented: "This is fantastic news for all the fans who follow the BTCC, either in their hundreds of thousands trackside or in their vast millions watching on TV in both the UK and many other regions around the globe.
"MG is one of motoring's truly evocative names so its BTCC campaign will, I'm sure, really capture the public's imagination. This high-profile return to the forefront of competition in the BTCC is also certain to prove highly effective in terms of marketing for MG and all of its partners, as well as delivering some great results for them on the track."
And added Gow: "This news has again underlined the great success of our NGTC regulations, enabling teams and manufacturers such as MG to embark on a major BTCC programme in a far more cost-effective and competitive basis than before – hence the reason we have such a fabulous diversity of makes and models in our championship."