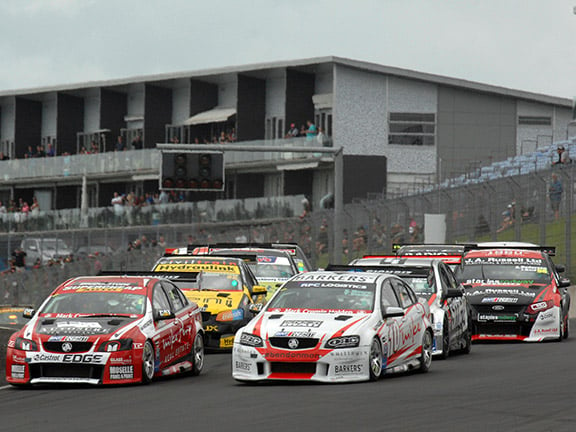 The V8 Supercar star and his friend Simon Evans won today's final race in the TR Group Waikato 400 meeting, following up from their victory in yesterday's first heat.
But the meeting's second race, this morning, brought a setback as Van Gisbergen had to make an extra pit stop to tape up a passenger door that started flapping open because the lock had broken. They finished eighth.
"That made up for this morning," a beaming Van Gisbergen said after winning the final race. "We had to work for that one – I'm pretty excited by it. If race two had been the final race we'd be very disappointed now."
In his last two V8 Supercar meetings, Bathurst and Surfers Paradise, Van Gisbergen had been devastatingly fast but scored only win from the three races as bad luck struck in the other two.
In today's final race Aucklander Evans was a close third when he pitted around half-distance to hand the Holden over to his co-driver.
A quick driver change got Van Gisbergen out in second and he quickly caught up with Greg Murphy's Australian co-driver Jack Perkins. Under strong pressure, Perkins ran his Holden wide on a corner, the Kiwi pounced and once in front was able to pull away.
Another full-time Australian V8 Supercar driver, Tim Slade, then fastened on to Perkins' tail and eventually got his Holden past with a dive up the inside into the fast turn one.
"I got a better drive on to the straight and only just got the car turned into the corner – I went in a bit sideways, speedway-style, and I think we just touched slightly," Slade said.
He added that he had tried to be extra careful as Perkins is a good friend and also a team-mate in the M3 outfit. Slade and Aucklander Richard Moore had won this morning's race and they also won the round overall in their Holden.
Moore took the final stint this morning and drove well to withstand pressure from Perkins not far behind. "The car wasn't so nice when I got in but as the race progressed I got more comfortable with it and I could keep a consistent pace," the fast-rising young Aucklander said.
He was surprised and delighted when it was announced that he and Slade had won the round. Murphy and Perkins took second in this morning's race, ahead of Auckland teenager Andrew Heimgartner and his Australian co-driver Paul Morris.
Van Gisbergen and Evans were second for the round, despite their setback in race two, Murphy-Perkins third and Heimgartner-Morris fourth. Van Gisbergen leads the championship from Evans, Slade, Moore, Heimgartner, Morris, Perkins, Ant Pedersen (Hamilton, Ford), John McIntyre (Nelson, Ford) Mark Gibson (Auckland, Ford), Jonny Reid (Auckland, Ford), and Murphy.