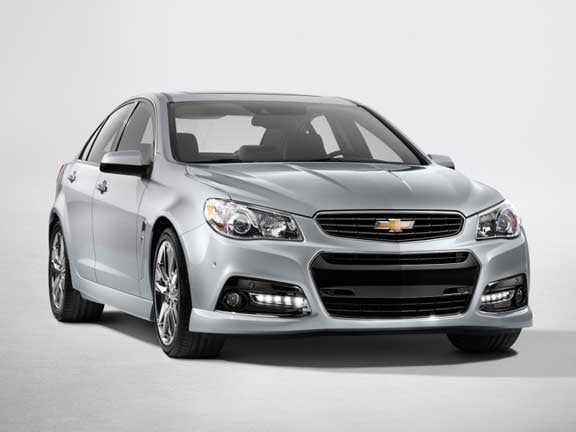 Based on the new Holden VF Commodore, the Chevrolet SS joins the all-new Corvette Stingray and updated Chevrolet Camaro in the Chevrolet performance car line up which has been evaluated in California's desert hills.
Early previews have compared the Australian made car favourably with premium sports vehicles.
Automobile magazine said the sedan will go "toe-to-toe with a US$65,000 BMW 550i" while Car and Driver Magazine declared the SS "The gifted offspring of a BMW M5 and a Chevy Camaro SS."
AutoWeek magazine said "This full-size Chevy is surprisingly light on its feet, and almost never feels big. It's civilized but not desensitized in any notable fashion."
Holden Program Engineering Manager, Steve Manson, who attended the drive program in the US as a representative from the Holden engineering team said the car was acquitting itself very well.
"We knew that the SS would be well-received here in the United States and we really are encouraged with the feedback that we've heard already from American motoring critics," said Mr Manson.
"The SS will play its part in Chevrolet's performance car line-up, and that's something the entire global SS and VF Commodore development team are very proud of."
A true performance hero, and Chevrolet's first V8, rear-wheel-drive performance sedan since 1966, the Chevrolet SS features a 6.2 litre V8 engine which delivers 310kW power and 563Nm torque, and is matched with a six-speed automatic transmission that can be shifted manually using TAP-shift paddles mounted on the steering wheel.
The new Chevrolet SS shares many technological features with the New Zealand favourite.
Just like the VF Commodore, the SS is the first Chevrolet car to feature Automatic Parking Assist, which provides hands-free parking help. This 'hands-free' parking assistant uses the ultrasonic sensing system to detect the width and depth of either parallel or reverse right-angle parking spaces. While the driver controls the throttle, transmission, and brake, the Automatic Parking Assist controls the steering inputs necessary to park the Chevrolet SS.
The SS also features additional safety and driver aids including a rear-vision camera, and side blind zone alert and lane departure warning, which give audible or visual cues to the driver that they may be in danger of a collision.
The Chevrolet SS also features a sport-tuned chassis, including:
? MacPherson strut front and multilink independent rear suspension geometry
? Electronic power steering system, optimized for sport driving
? Standard Brembo brakes, with ventilated, 355-mm rotors and two-piece, four-piston front calipers
? Forged aluminium wheels, wrapped in ultra-high-performance Bridgestone tyres: 19 x 8.5 inch wheels with 245/40ZR19 tyres in front; 19 x 9.0 inch wheels with 275/35ZR19 tyres rear
Already in selected Chevrolet showrooms and on the driveways of driving enthusiasts, the SS joins the Corvette and Camaro, whose combined sales have made Chevrolet America's favourite performance brand for the last two years.