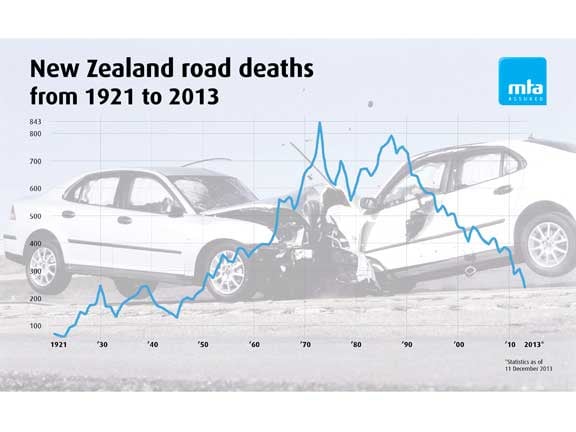 This year, Motor Trade Association (MTA) has teamed up with some of New Zealand's top motorsport professionals to share tips with Kiwi motorists to keep road accidents to a minimum.
The 2013 road toll currently sits at 238 – 70 fewer deaths than 2012's total of 308. While still too many, it is an improvement, and we all want it to keep dropping. At the current rate, it seems likely the road toll for 2013 will be roughly 250 – our lowest total since 1950, and a long way from our worst total of 843 deaths in 1973.
V8 Supercar driver and 2013 V8 SuperTourer champion Greg Murphy advises taking your time while travelling this summer. "Enjoy the driving – don't think of it as a chore but instead as part of the experience and the holiday," Murphy says.
With low police tolerance for speeding these holidays, think about other drivers and their driving style. "Let other people drive the way they want to – if you want to drive below the speed limit, that's fine, but get out of the way of others who may want to get in front of you," Murphy says.
Chris Birch, six-time New Zealand Enduro Champion, has witnessed his fair share of close calls on motorcycles. He says it is important that motorcyclists consider what is in front of them. "Most people only react to what's 20 metres in front of them. Look as far ahead as possible to avoid anything unexpected," Birch says.
Motorcyclists are more vulnerable, and have longer stopping distances, than car drivers – especially at higher speeds. Andrew Stroud, nine-time National Superbike Champion, advises "90 percent of your stopping power is in your front brake – learn how to use it, as it can be your only chance of stopping in a hurry, if you need to."
Although vehicles on the road don't wear through tyres like they do around a track, drifting champion "Mad" Mike Whiddett says worn tyres can have a huge effect on your vehicle. "Before you head out these holidays, check your tyres. In drifting, tyres are our biggest consumable. A change in tread wear or tyre pressure can make a big difference on track and on the road. This will affect the handling of your car dramatically," Whiddett says.
For less experienced drivers, it is important to get to know the capabilities of your vehicle; what it will and won't do and how it'll react. "Know your car's limits – not many people do, and that is how you can get into trouble," says Kiwi Grand Prix circuit racer and rising star Mitch Evans.
While any road death is one too many, New Zealand has made great progress in bringing the number down, MTA spokesperson Ian Stronach says.
"All these professional drivers control vehicles at high speed and are used to managing situations that change quickly and have decades of driving experience between them. They come from two- and four-wheel backgrounds, on- and off-road – but all drive in difficult situations," Stronach says.
"We want to end 2013 in the best position we can, and the advice from these guys will certainly help."
Watch videos with more driving tips from motorsport professionals, here: www.mta.org.nz/summersafety.