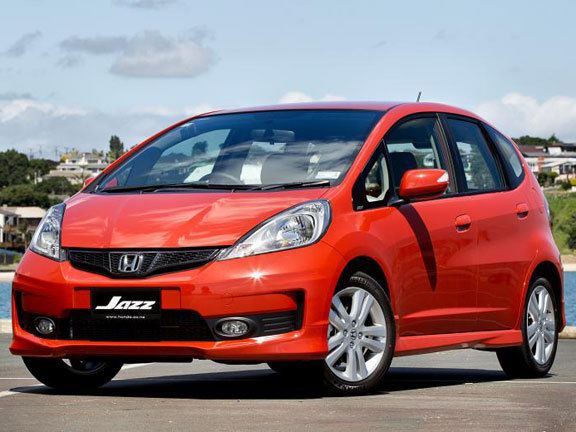 There are now seven colours to choose from, with the addition of Fresh Lime Green, Sunset Orange and Storm Silver, to compliment the new styling to the front and rear bumpers, grille, headlights and tail-lights.
New standard features on the 2011 Honda Jazz range include Electronic Stability Control (Honda's VSA), improved look and feel to the interior upholstery, trip computer integration with the steering wheel controls and passenger seat-belt reminders. The interior and dash layout upgrade includes amber interior and instrument panel lighting.
The Jazz 1.3S model now comes standard with 15" alloy wheels, rear spoiler and cruise control; while all 1.3 and 1.5 litre models receive new styling to the front and rear bumpers, grille and lower skirts.
The i-VTEC engine, combined with either the 5-speed automatic transmission or 5-speed manual (1.3S models only), delivers power and torque for a sporty drive. The 1.5 litre Jazz achieves power of 88kW and torque of 145Nm, and the 1.3 litre, power of 73kW and torque of 127Nm. Racing inspired paddle shifters on the steering wheel allow gear shifts in automatic mode or full manual operation in 'Sport' mode.
And, the Honda Jazz has been proven as a cost-effective small car to run, demonstrated by winning the Small Car Class in the recent AA Energywise Rally. Its fuel economy boasts ADR figures of 5.8, 6.6 and 6.7 litres per 100km respectively for the Jazz 1.3S manual, Jazz 1.3S automatic and Jazz 1.5 Sport.
Jazz pricing:
Jazz 1.3 S Manual $24,700
Jazz 1.3 S Sport Manual $27,690
Jazz 1.3 S Auto $28,500
Jazz 1.3 S Sport Auto $31,490
Jazz 1.5 Sport $31,200
All Jazz models are available with leather interior variants.
See the Honda Jazz for sale.