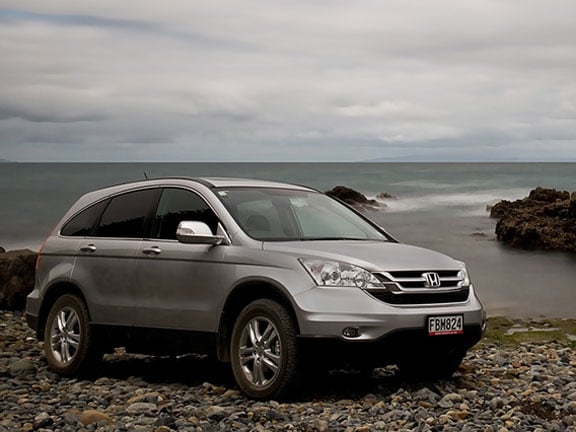 The new Honda CRV has a lower centre-of-gravity, refined suspension and a wide track that creates stability and handling for the vehicle.
In its third generation since its 1996 NZ debut, the CRV is among the best-selling vehicles for Honda globally, reaching over 2.5 million customers in 160 different countries to date.
The 2010 CRV adds redesigned styling to the face and rear, with twin bar chrome and a honey comb insert on the new grille, and the lines of the bumpers have been refined. New wheels complete the look.
The interior of the CRV has also received a makeover with subtle changes to the material and colours, while the addition of a USB connector sees a restyling of the audio and air conditioning controls.
In the boot, ease of access is excellent with the lift-up tailgate. A dual-deck cargo shelf provides additional storage options and the upper level can hold up to 10kg, while providing plenty of clearance underneath.
The CRV's 2.4-litre i-VTEC engine is from the Accord Euro family. With 4-cylinders and Dual-Over Head Camshafts, fuel economy is good and emissions fall within the LEV II and Euro 4 levels. A 5-speed automatic transmission is available on all CRVs, and a 6-speed manual is available on RVi model by order.
Traction-enhanced Real Time 4WD is standard on all CRV's, as well as Electronic Stability Control, Honda's Vehicle Stability Assist (VSA) and optimised gear control programming.
The Sport model adds a leather interior, sunroof, power drivers seat and more.
See the Honda CRV for sale here.