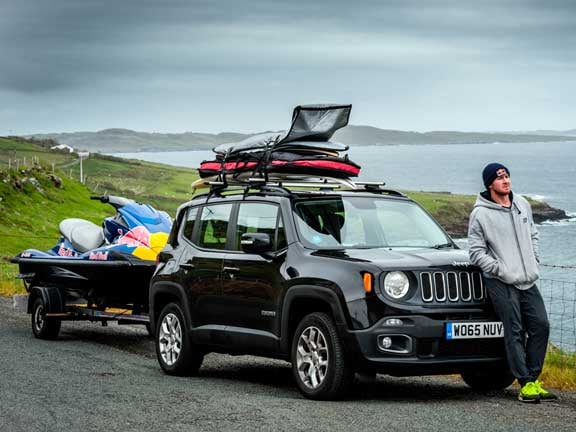 Fronting the journey is the latest Jeep Renegade, shown tackling rough terrain, mud tracks and daunting declines as the team and equipment travel to the Atlantic shores off the coast of Ireland. The thrilling documentary, available on Red Bull TV, reveals the dedication and preparation of Cotton and his team to find the elusive, gigantic, Atlantic wave for Cotton to conquer.
Damien Dally, head of brand, Jeep UK, said: "This film is gripping, watching Andrew surf some of the world's largest waves. Seeing the Renegade lead Andrew and his team to the rural locations whilst towing the jet-ski he uses to get out to sea where he finds those extreme waves, is great – the Renegade really does allow the team to go anywhere and do anything."
Cotton added: "Having watched the film for the first time, it dawned on me what an epic journey the last six months have been – I will continue to balance family life with my hunt for the world's largest waves using my Jeep to access those off-road, remote locations and the big waves."
Big wave hunters in New Zealand looking for the ultimate way to reach the beach can get into the ultimate version of the Jeep Renegade, the Trail-rated Renegade Trailhawk for $49,990 plus on road costs.