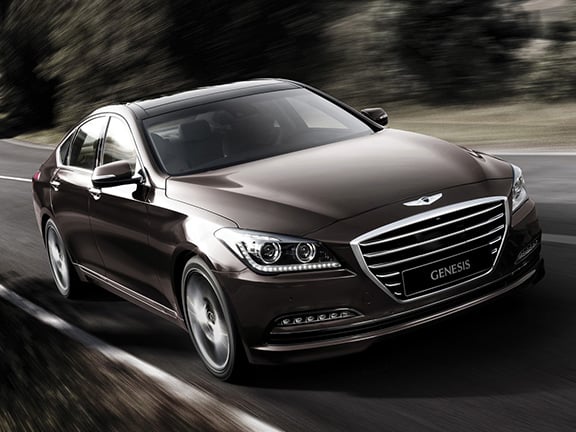 The large car is the latest rated Hyundai to achieve the maximum ANCAP safety rating for a marque that has consistently performed strongly in crash tests in recent years.
In addition, the Korean manufacturer has pulled out all the stops to provide as standard nearly every safety feature on the ANCAP check list including autonomous emergency braking – a feature that has often been excluded from many new models arriving in New Zealand.
AA general manager of motoring services Stella Stocks says with the Genesis, Hyundai has lifted the bar in terms of focusing on consumer safety.
"With the Genesis, Hyundai is putting substance right along style producing one of the safest vehicles to be available to New Zealand motorists," Ms Stocks says.
Standard on all Genesis variants to be launched in New Zealand are:
Active lift (pop-up) bonnet
Adaptive cruise control (ACC)
Adaptive front lighting systems
Autonomous emergency braking (AEB)
Daytime running lights (DRL)
Emergency stop signal (ESS)
Lane support system (LSS)
Pre-safe systems
Reversing collision avoidance
Tyre pressure monitoring system (TPMS)
"As increasing numbers of manufacturers move towards including more safety assist technologies (SATs) in new models, motorists will become more aware of what should be available to them when they consider their next purchase."
Transport Agency access and use general manager Celia Patrick says improving the safety of New Zealand's vehicle fleet is a key part of the Government's Safer Journeys strategy and it is great news that the range of top safety-rated cars was continuing to grow.
"Crash statistics show that occupants of 5 star rated vehicles are much less likely to receive life-threatening injuries in a crash than occupants of lower rated vehicles. With today's safety technology 5-star safety ratings are increasingly becoming the norm, and we urge people to buy the safest vehicle they can afford."
Ms Stocks says now more than ever consumers have a wealth of information available to them to assess the safety merits of any vehicle they're considering.
"As more manufacturers improve and increase their active safety systems, consumers will become more familiar with them and expect them to be included as standard on new cars."
ANCAP is supported by all Australian motoring clubs, the New Zealand Automobile Association, the Australian Government, the New Zealand Government, Australian state and territory governments, the Victorian Transport Accident Commission, NRMA Insurance and the FIA Foundation.
Browse Autotrader's range of Hyundai cars for sale.