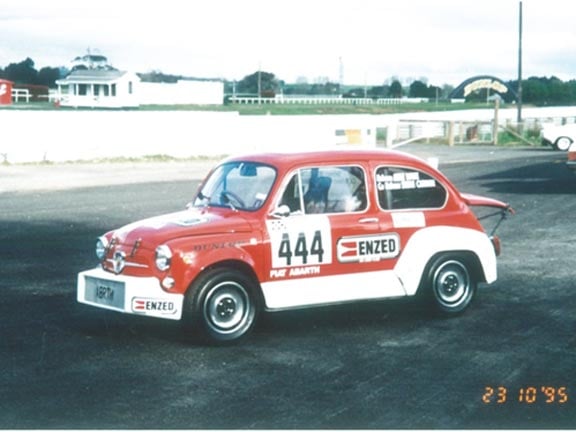 Celebrating its nineteenth consecutive year of competition Team ENZED Abarth has completed every Targa New Zealand event in the 19 year old Road Rally series history, and sets the standard for eclecticism amongst competitors with its world class 1964 Fiat Abarth Berlina Corsa 1000.
Arguably the fastest 1000cc car in New Zealand and the only rally spec model of its kind in the world, the Abarth celebrates another year of wowing crowds of spectators in 2013, hitting the roads of the North Island with incredible pace of up to 196kmh maintained at its fully loaded weight of just 900kg.
Team driver Mike Lowe has been leading Team ENZED Abarth since bringing the car to competition in 1995 – the same year as the start of Targa rallying in New Zealand. The team has also held its naming sponsor ENZED firmly by its side from day one.
"Every year we look forward to this, the Abarth is iconic with Targa in New Zealand now, everyone loves it – even more so when they find out about its history combined with its ability and seeing it on paper is one thing, seeing it on the road is another" says Mike.
When quizzed on the reasons for participating in Targa, and continuing to campaign the Abarth Mike said "having a 40 year old 1000cc car not only finish the event, but beat home over half the field, catching Porsches and other modern marvels along on the way gives everyone involved in our Team immense satisfaction. It's a feeling that cannot be repeated with a modern car, which is easier to drive and doesn't break down."
"It's fun, and it's different. It's also about the camaraderie of Targa – spending five days on the road with your team and others, being able to share your passion with locals along the way is very unique. Being able steer the Fiat on the limit of its range most days is a work out, but we love it and so does everyone else."
Along the way during competition Team ENZED Abarth also raises funds for Cure Kids NZ.
ENZED New Zealand Marketing Manager Shaun O'Dea says "Team Abarth have been a part of ENZED for nearly 20 years now, we love that part of the event for them is about getting involved in the communities that they visit – and you have to see it drive to believe just how rare a weapon it is.
"We're looking forward to making 2014 our 20th year in the Abarth" says Mike. Should this happen, the team will be the only team in New Zealand history to have completed all twenty Targa New Zealand events. "But first we need to concentrate on bringing it over the line in one piece for the nineteenth time. There are plenty of incredible stories of close calls, – crashes, fires, wheel stands etc from the last 18 years and no doubt 2013 will bring more."
People are able and welcomed to view the ENZED Abarth at any of the spectator or public pit stop points during Targa New Zealand which takes place from Oct 31 to November 2 2013. Team ENZED Abarth are happy to make themselves for available for media opportunities during the course of the Targa New Zealand 2013 event.
ENZED Team Abarth quick facts:
Team Sponsor: ENZED New Zealand – longest serving consecutive Motorsport sponsorship in New Zealand.
Date commemoration: 2013 marks the 19th year of Targa New Zealand, and 19th consecutive year of Team Abarth's involvement in (and completion of) the iconic New Zealand tarmac rally.
Team Members: Mike Lowe (Driver), Phil Sutton (Co-Driver), Nigel Derbyshire and Dave Jowett (Crew).
Competition Vehicle: 1964 Fiat Abarth Berlina Corsa 1000. Found in Sydney in 1991 and brought to NZ in 1993 for restoration and race preparation. Fiat 600-based shell. Front mounted radiator, fibreglass fender, flares, raised engine lid, all new structural panels. Full roll cage for safety.
Suspension: Front wishbone and coilovers with antiroll bar. Worm/roller steering 4 ½ turns lock-to-lock. Rear swing arm.
Brakes: four wheel solid disc. Split circuit for safety.
Engine: Abarth 4 cylinder , 8port head, 10.5:1 compression, twin side-draft 40mm webers. Approx 75kw at 7500rpm in rally trim. Fuelled on avgas.
Transaxle: 5 speed with LSD and cv-jointed driveshafts.
Weight: car only = 690kg dry
Car with driver and co-driver and full fluids = 900kg (this gives a net power to weight ratio of 12kg/kw.
Vehicle credentials: The only tarmac-rally specification Abarth running in the world, arguably the fastest 1000cc car in NZ.
Targa New Zealand 2013 Dates: Thursday 31 October – Sunday 3 November 2013
Targa Stats: Largest motorsport event in NZ – 200 entrants, over 1200 people. Targa NZ has been running since 1995.
Route: Auckland/Waikato/Taranaki/Manawatu/Hawkes Bay